US eases stance on Afghan security pact as pullout deadline nears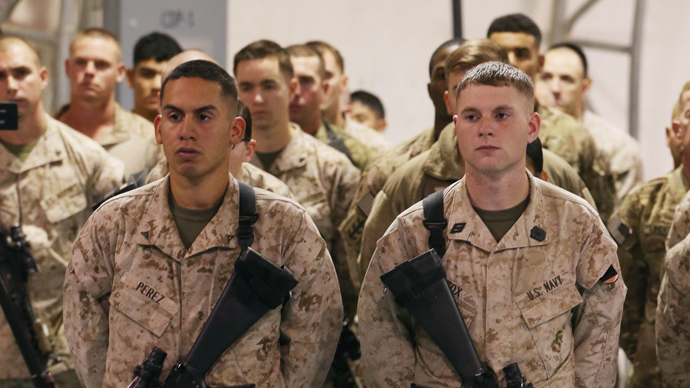 Afghan President Hamid Karzai has stood firm in his decision to delay signing the pact that would allow US troops to remain in Afghanistan past 2014, with Obama administration officials now easing off the December 31 deadline to sign the deal.
US decision-makers, including national security advisor Susan Rice, have threatened that if Karzai did not sign the deal by the end of 2013 then the US would consider withdrawing all its troops much sooner. That threat has been known as the zero option and has been bandied about for weeks, although it now appears unlikely.
"I don't know if I would call it bluffing," one American official who spoke on the condition of anonymity told The New York Times. "But it looks like that's what we were doing, and now it looks like Karzai is calling us out."
American officials have insisted that an agreement be in place that allows a limited number of US military personnel so remain in Afghanistan to advise local forces past 2014. But Karzai has maintained that he will not sign any bilateral security agreement (BSA) until a number of demands are met.
Delivering a speech in India last week, Karzai pushed the US to end raids on Afghan homes, cease drone strikes, and attempt to convince the Taliban to engage in peace negotiations with the Afghan government. Karzai initially agreed on the wording of the BSA, but has since said he would rather wait until the April 2014 election to lend a signature.
"We've been clear that our preference is to conclude the BSA by the end of the year, and that if we cannot conclude a BSA promptly thereafter, then we will be forced to initiate planning for a post-2014 future in which there would be no US or NATO troop presence in Afghanistan," Laura Magnuson, a spokeswoman for the White House, told The Times. "That has not changed."
Just how long the administration will agree to wait, though, remains to be seen.
"I think it's pretty obvious why" another deadline has not been suggested, said the anonymous Times source. "But if we want a deal, we're going to have to wait."
Some observers have questioned what motivates Karzai to hold off on signing a deal that many in Afghanistan seem to support. Afghan parliamentarian Khlaid Pashtoon wondered if Karzai is trying to negotiate something for himself.
"It looks like he is trying to achieve some credit from the people, you know, like he is very nationalist, he does care for Afghanistan, he does care for the future of Afghanistan and he does not want to show himself as a puppet of foreign powers," Pashtoon told Voice of America. "On the other hand, some people are saying that he may have some personal needs, some personal demands that he may ask from the US side."
Whatever the case may be, Karzai is throwing a wrench into an already difficult situation. An Associated Press-GfK poll released last week found that 57 percent of Americans now say going to war in Afghanistan as response for the September 11 terrorist attacks was probably the "wrong thing to do." A minority of US citizens is in favor of the current withdrawal plan, with 53 percent saying the process is taking too long and 34 percent responding the troop withdrawal is about right.
You can share this story on social media: