Karzai refuses to sign security pact until 'US brings peace' despite assembly backing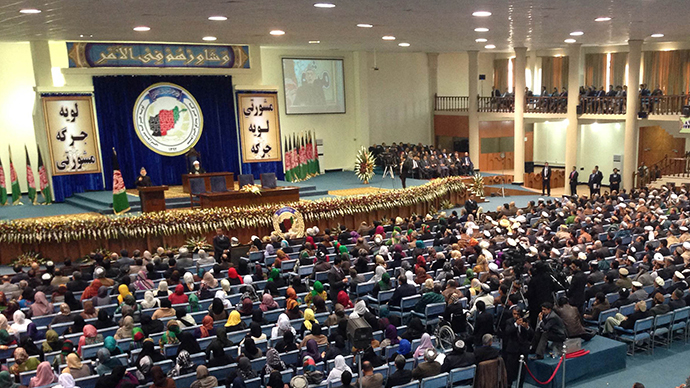 Afghanistan's national assembly of elders has approved the signing of a security pact with Washington that would leave behind a residual US troop presence after withdrawal in 2014. President Hamid Karzai has said he will not sign the deal immediately.
The Loya Jirga voted in favor of a security deal with Washington that would allow US troops to stay in Afghanistan beyond 2014 to train national security forces, a deputy speaker of the assembly told the BBC. The assembly is made up of 2,500 elders, tribal leaders and other influential figures in Afghanistan. 
"Given the current situation in, and Afghanistan's need... the contents of this agreement as a whole is endorsed by the members of this Loya Jirga," Fazul Karim Imaq, a deputy of the loya jirga said, reading a declaration reached at the end of the four-day grand meeting. 
"The loya jirga requests the president to sign the agreement before the end of 2013," Imaq said.
President Karzai said he would not sign the deal immediately and that the US needed to bring peace to Afghanistan before any agreement was reached.
"If there is no peace then this agreement will bring misfortune to Afghanistan," Karzai said in an address to the Loya Jirga. "Peace is our precondition. America should bring us peace and then we will sign it."
Washington has criticized President Hamid Karzai's government for delaying the signing of the treaty, insisting there must be a decision before the end of this year. The White House wants to finalize plans of how many troops will remain behind following the scheduled withdrawal of forces at the end of next year.

Secretary of State John Kerry warned Karzai in a telephone call on Friday that delays were "unacceptable" would risk the total withdrawal of US forces.
In the call, Kerry told Karzai that waiting several more months to sign the pact would "make it impossible for the U.S. and allies to plan for a post-2014 presence," said State Department spokeswoman Jennifer Psaki.
You can share this story on social media: