'Polar vortex' hits US Midwest and Northeast with record freezing temperatures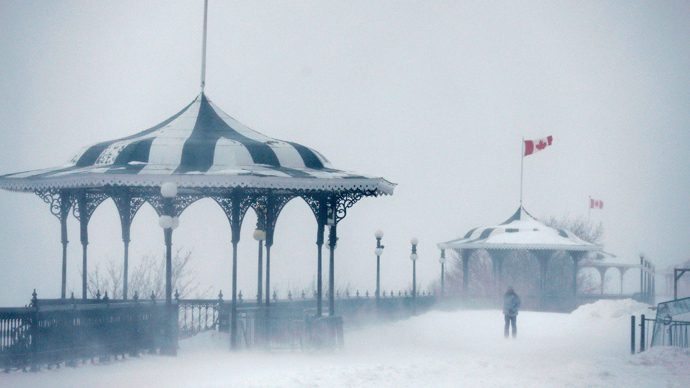 The American Midwest and Northeast have braced for a "polar vortex," a megastorm that is expected to bring record low temperatures on Monday. So far extreme weather conditions have claimed at least 16 lives, paralyzed travel and caused power shortage.
For those exposed to the inclement conditions frostbite and hypothermia will be a danger as – 31°C is expected in North Dakota, - 35 °C in Minnesota, and - 26 degrees below Celsius in Indianapolis and Chicago. Adding the wind chill factor, the temperature could feel as low as – 56 °C.
The freezing air began to spread Sunday reaching areas as far south as the Gulf Coast.
"It may feel as cold as negative 50 to negative 60 on Sunday night over sections of the north-central states," the Tom Moore, from the National Weather Service said to NBC News.
"In those conditions, frost bite sets in on exposed skin within five minutes…a person not properly dressed could die easily in those conditions," Moore added.
Such harsh and freezing temperatures have not been witnesses in the region for 20 years.
Meteorologists blame the weather conditions on a "polar vortex," a dense pool of counterclockwise-rotating air.
"It's just a large area of very cold air that comes down, forms over the North Pole or polar regions ... usually stays in Canada, but this time it's going to come all the way into the eastern United States," said National Weather Service meteorologist Phillip Schumacher.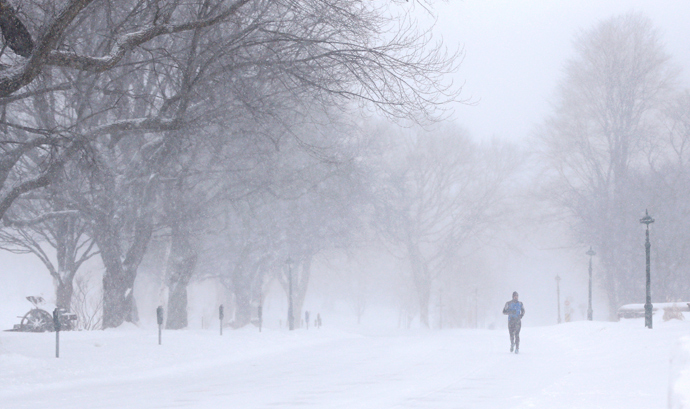 As freezing temperatures hit the US, authorities are moving to protect some of the more vulnerable members of society.
"Anybody living out on the streets needs to be rounded up and put into a shelter," said Moore to MSNBC News. "The repercussions for not could be deadly, and I'm afraid we're going to see cases like that," the official added.
A total of 1,266 flights were canceled across the United States and 6,036 flights delayed on Saturday, with Chicago's O'Hare International Airport and Newark Liberty International Airport in New Jersey among the most affected, according to tracking firm FlightAware.com.
"It is unfortunate that the weather conditions are causing travel delays. I'm traveling from San Francisco to Detroit to begin a new work project on Monday. I'm freaked out that the predicted snow storm will cause me to miss the first day at work," Alex Polonsky, a seasonal traveler told RT.
Schools as far south as Washington DC were closed on Friday. Many government offices also shut down. Public schools are to remain closed on Monday in a number of cities, and the entire state of Minnesota. In Nashville, Tennessee schools will be shut until Wednesday.
A winter storm warning has been issued for the Detroit area on Saturday as the automotive city braces to receive up to 28 cm of snow.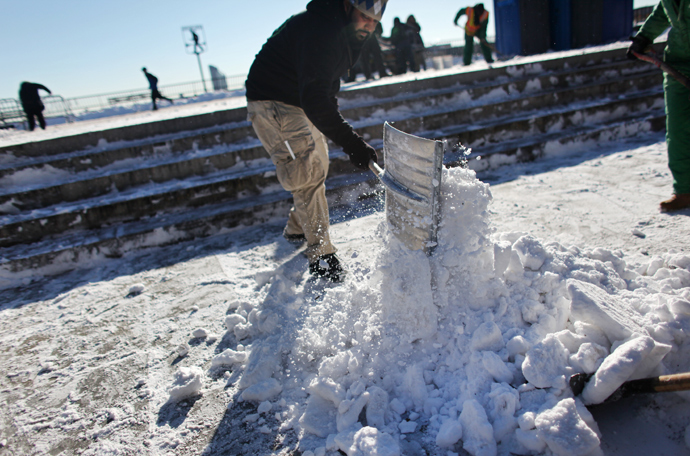 The storm follows the winter weather system that hit the US Midwest and Northeast just after New Year's Day, causing at least 19 deaths and thousands of flights cancelations and power outages.
In Canada, strong blizzards have left some 65,000 customers on the island of Newfoundland waiting in the cold and dark until Monday or Tuesday to regain electricity supply.
Newfoundland and Labrador Hydro said severe weather caused a fire that led to a shutdown at the Holyrood Generating Station, causing a massive outage across the island in which 190,000 were left without power.
Traveling to St. John's International Airport has also been affected as most flights are either cancelled or delayed and bus service cancelled. Authorities are also urging drivers to stay off roads. Air Canada said that their flights from Toronto's Pearson International Airport to Eastern Canada are affected by the weather.
Much of Atlantic Canada spent Saturday cleaning up after the blizzard that left about 38 cm of snow, which crossed the Maritimes on Friday before heading to Newfoundland's Avalon Peninsula overnight.
Weather forecasters said Saturday Newfoundland and Labrador received about 15 inches of snow.
You can share this story on social media: