Mexico outraged after US border patrol agent kills a teenager
Published time: 12 Oct, 2012 17:50
Edited time: 12 Oct, 2012 21:50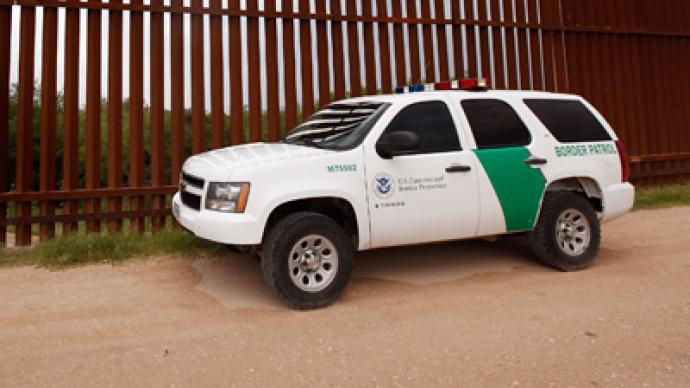 The lifeless body of a 16-year-old, riddled with bullet holes, laid on the sidewalk of downtown Nogales, Sonora after a US Border Patrol agent opened fire at a group of people across the border.
The victim, Jose Antonio Elena Rodriguez, had received eight bullet wounds after standing among a crowd shot at by the US Border Patrol.
The incident came in response to people dropping a drug load into Arizona over the border fence. After delivering the narcotics around 11:30 pm Wednesday, the smugglers fled back into Mexico. The border police claim they approached to investigate, only to have rocks pelted at them.
As people on the Mexican side of the border continued to throw rocks and ignored orders to stop, one agent opened fire, killing the 16-year-old in the process.
The mayor of Nogales, Ramon Guzman Munoz, said that regardless of whether or not the people had committed a crime, firing into the group was not the right response.
"Aside from the fact that this may have resulted from an illicit act, the logical response isn't to take a human being's life," he told El Imparcial. "I hope they don't say this was legitimate self-defense."
Mexico's Foreign Relations Department said that it "forcefully condemned" the shooting and called such deaths "a serious bilateral problem," the Associated Press reported.
"The disproportionate use of lethal force during immigration control actions is unacceptable under any circumstances," the department said in a statement. "The repeated nature of this type of cases has drawn a reaction of rejection from Mexican society and all of the country's political forces."
The Wednesday night killing is the fourth deadly shooting by a Border Patrol guard in Arizona since January 2012. The FBI is currently investigating the incident, which Mexico's Foreign Relations Department hopes will be "exhaustive, transparent and timely."
Sean Chapman, the Border Patrol agent's lawyer, argues that agents are allowed to fire their weapons when they are threatened with a deadly force – which can include rock throwing.
A similar case occurred in 2010, after a Border Patrol agent shot and killed a Mexican Teen along the US-Mexican border in South Texas. The 15-year-old, who had been involved in drug smuggling, had been killed after throwing rocks at the agent. The officer is facing a lawsuit filed by the boy's parents, accusing him of using excessive force.
"As a matter of international responsibility, the fact that the victim was on Mexican soil when he was killed does not absolve the United States of responsibility for the acts of its agent," the lawsuit reads.