Back to the future: Ukraine gears up for Yulia versus Viktor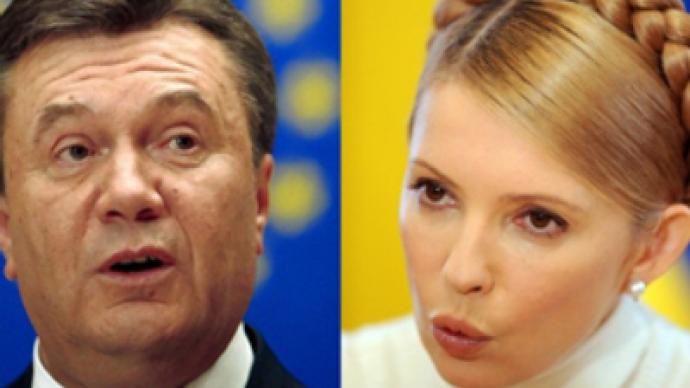 Ukraine has reduced the presidential playing field to Prime Minister Yulia Timoshenko and her formidable rival Viktor Yanukovich, as observers attempt to predict which way Kiev's political winds are blowing.
It would be difficult to name another modern politician whose political fortunes have crashed harder and faster than that of Ukraine's incumbent President Viktor Yushchenko.
Just six years ago, during the dramatic showdown known as the Orange Revolution, thousands of Ukrainians camped out in freezing Kiev for endless days in a massive show of support for pro-Western Yushchenko and his iconoclastic sidekick, the golden-braided Yulia Timoshenko.
Despite such glorious beginnings, the promise of a new dawn for Ukraine eventually fell along the wayside as political infighting, economic crisis, and a vain search for national identity exposed Yushchenko's lofty aspirations as chauvinistic flights of fancy.
This was proven on Sunday as the Ukrainian president, suffering basement ratings amid a grinding economic crisis, ran as a ghost of his former heroic self, pulling around 5 percent of the presidential vote.
Sunday also witnessed the stunning political comeback of Viktor Yanukovich, the incumbent party's long-term rival who says he can bring Ukraine closer to the West, while still maintaining healthy relations with Russia. So far it is proving to be a winning formula: With about 75 percent of the votes counted by Monday, Kiev claimed Yanukovich, the leader of Ukraine's Party of Regions party, had pulled 36.2 percent of the votes, while Timoshenko received just 24.6 percent.
Since no candidate received the minimum percentage of votes to declare victory, the issue will be resolved on February 7 as Yanukovich, who enjoys broad support in eastern Ukraine, and Timoshenko, who preaches a more "pro-Western" policy, go head to head to decide the winner. (Click here for RT campaign coverage of Ukrainian presidential election)
Where did Yushchenko go wrong?
If there is one thing that both Timoshenko and Yanukovich can agree upon, especially after Yushchenko's orange experiment failed to produce fruit, it is that Ukraine must normalize relations with Russia.
Aside from calming the gas flare ups that erupt with annoying regularity between Kiev and Moscow, Ukraine needs to demonstrate that it is not a full-blown enemy of Russia. Indeed, poking the Russian bear at every opportunity seems to have been part and parcel of Yushchenko's western-leaning political program from day one.
In August, things came to a nasty head between the neighbor states when Russian President Dmitry Medvedev wrote an open letter to his Ukrainian counterpart, criticizing him for "anti-Russian policies" that he said had brought relations between the countries to "unprecedented lows."
After voicing his opposition to Ukrainian membership in NATO, the cold war military bloc that Russia views as a sprawling security threat in its geopolitical backyard, Medvedev charged Kiev with supporting "an openly anti-Russian position" during Georgia's ill-conceived attempt to annex South Ossetia with military force in August 2008.
"Kiev has adopted an openly anti-Russian position regarding the Saakashvili regime's military attack on South Ossetia," Mr. Medvedev wrote in his Web posting. "Ukrainian weapons killed peaceful citizens and Russian peacekeepers."
"The charges come at a time of a deep economic downturn and political discord in Ukraine, with a seemingly intractable power struggle between President Yushchenko and his main pro-Western rival, Prime Minister Yulia Timoshenko," The New York Times wrote in November 2008, when the scandal first went public in Ukraine. "The Parliament has often been stalemated, and President Yushchenko's popularity has plunged."
At the weekend, Viktor Yanukovich, 59, told the Komsomolskaya Pravda Ukraina newspaper that he would keep Ukraine out of military blocs, including the NATO alliance, membership of which has been one of Yushchenko's stated goals.
"Ukraine, quite simply, has been and will be a state outside any blocs," the former prime minister pledged. "We will not aspire to enter… NATO."
But Yanukovich said he would consider Russian President Dmitry Medvedev's proposal for a new European collective security system, which must have been music to Moscow's ears.
Since February 2007, when then-Russian President Vladimir Putin warned about US military overstretch during a global security conference in Munich, Moscow has been talking up the need for a new international security paradigm.
In June 2008, Medvedev floated the idea for a multilateral structure for European-Atlantic security that would work on multilateral (as opposed to unilateral) basis. The new security structure would encompass NATO, the Organisation for Security and Cooperation in Europe (OSCE) and the Collective Security Treaty Organisation (CSTO).
The proposal received a lukewarm response in the West.
Prime Minister Yulia Timoshenko, delicately skirting the NATO issue (she previously went on record as saying she supported a referendum before any decision is made regarding Ukraine's membership in the military bloc) pledged before this weekend's presidential polls to bring Ukraine into the EU within five years if she wins the presidency.
"Ukraine must become a member of the European Union and for me that is a priority. I will do everything so that during my presidency Ukraine becomes a member of the EU," she said.
Ukraine's presidential mandate is for five years.
Timoshenko continues to perform an elegant balancing act between the EU and Russia. Western leaders would probably prefer to work with such a leader, who has a more pro-Western record than her "pro-Russian" opponent, Yanukovich, who has even vowed to restore the Russian language in Ukraine where 17 % of the population of 50 million people is native Russian.
On another contentious front, Yanukovych said that Russia should pay a higher price for the stationing of its Black Sea Fleet in Crimea. And although Moscow may not like the idea of digging deeper into its pockets to park its battleships, it is a far more promising prospect than losing the basing privileges altogether.
"I have always said that the price for the lease of land in Crimea used by the Black Sea Fleet base should be market-based," Yanukovich said. "It should be economically justified. This is a matter to be resolved between the two sides. This is a correct and fair issue. If you look at this issue from this angle, it is a right thing to do."
Many Ukrainians view this as a nice compromise with Russia, which has long advocated a "return to market rates" in deciding the price that Ukraine must pay for its gas deliveries. Ukrainians will revel in the satisfaction of lecturing Moscow to "pay the market rate" (how to determine such a commodity price is quite another question) for the use of the Crimean port.
Furthermore, Yushchenko alluded to "security reasons" for allowing Russia's Black Sea Fleet to remain in Ukrainian territory. For a Ukrainian politician to suggest that the presence of Russia's military will improve home security is certainly a radical new position, but given the enhanced terrorist threat it seems to make perfectly good sense. NATO forces, after all, cannot protect the entire globe.
"It is also very important to think about what serves our interests," Yanukovich told Ukrainian media. "If we are talking about the creation of a European security system much talked about in Europe today… we should find an answer to the question whether Ukraine should keep this base in Crimea. Will this create additional ways to enhance our country's security or not?"
"We are talking about national interests," the presidential candidate stressed. "There is nothing personal here. I will always defend national interests in the most resolute way."
On the energy front, which has long been Timoshenko's strong domain since hammering out a deal with Putin last winter, Yanukovych criticized the incumbent government for losing "trustful and partner relations with Russia."
According to Yanukovich, Ukraine lost a valuable opportunity to be an active player in Russia's Nord Stream and South Stream gas projects. He then rebuked the Ukraine-EU declaration on the joint modernization of the Ukrainian gas transport system as "unviable" and which, in his view, will only serve to provoke an angry reaction from Russia.
"Russia's reaction was absolutely predictable and natural," he said. "If the goal was to provoke Russia, this goal was attained. If the goal was to find a solution to the modernization of the gas transport system and to pump more gas, to improve the system's reliability, then this was not attained. What we heard was just another declaration which failed to attain its goal."
Timoshenko has long made reliable gas deliveries a crucial issue, and she reached a new agreement on gas trade with Russian Prime Minister Vladimir Putin last November in Yalta, southern Ukraine.
"It's comfortable for us to work with the Timoshenko government," Putin said after his meeting, in which lucrative agreements were reached in other industries as well.
Both Timoshenko and Yanukovich are reportedly engaged in talks with Sergei Tigipko, the banker who came in third with 13.22% of the vote, to win their voters' support in the runoff election.
Tigipko, the leader of Strong Ukraine Party, has said he will not publicly endorse a candidate in February's election, but will work with the winner of the election if he or she supports a modernization program.
"If a public position on the country's modernization is taken and if the president is ready to make even unpopular steps and bear responsibility for them, I am, as any honest man, ready to put my signature under such policy," he said.
You can share this story on social media: