Ukraine's "damaging" arms trade with Georgia back in spotlight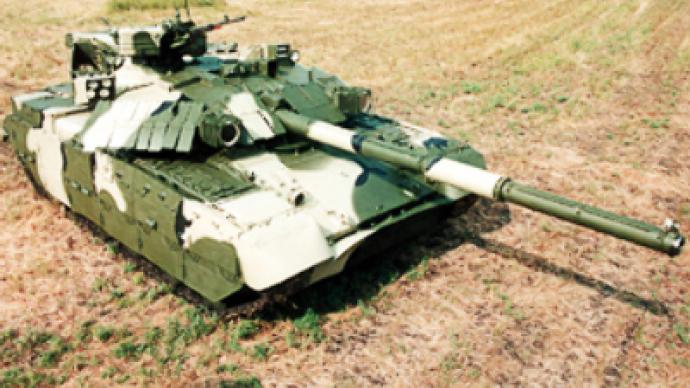 Ukraine's arms exports, which a parliamentary commission said damage national interests, haven't stopped despite grave allegations, a Ukrainian MP warns. The newest hardware is being sold to Georgia and other countries.
"Modern air defense systems are being withdrawn from deployment and sold for peanuts to the Georgian Army. Since the conflict between Georgia and South Ossetia in 2008, Ukraine has been delivering arms and combat vehicles to Georgia," RIA Novosti cites Valery Konovalyuk as saying at a parliamentary session.
The deputy used to head a commission investigating sale of arms by Ukraine. The final report, published in December 2008, blamed several officials including President Yushchenko of delivering arms to Georgia at price lower than their accrual cost and at the expense of Ukraine's own army.
In his speech on Thursday, Kovaluk reiterated the allegations, saying the "arms business between Yushchenko and Saakashvili" continues. According to him, Ukraine is to deliver in October this year twelve brand new T-84U "Oplot" tanks, an advanced modernized version of the Soviet T-84 developed by the Morozov design bureau in Kharkov. The tank entered service in the Ukrainian army only in May 2009.
Other Ukrainian weapons on the shipping list for Georgia supposedly include ten T-72 tanks, three armored personnel carriers BTR-80, sixty portable air defense missiles, ammo for rocket launchers and anti-tank guided missiles, the parliamentarian said.
He added the deliveries will be a hit for the already-weakened Ukrainian armed forces.
"Chaos and breakdown reign in the army. We are seeing massive frauds in the procurement system, embezzlement of money, fraud over land ownership committed by senior officers in the Defense Ministry," Konovalyuk said.
He added the money made through export deals has failed to get through to the national budget. "Over four years, the sale of arms was worth 2.5 billion dollars, and only 200 million dollars made it to the budget," he said.
The deputy said the report of the commission he headed was mostly ignored by Ukrainian law enforcement agencies, and claimed that top officials are obstructing any probe into the issue by putting pressure on investigators.
The last time the scandal over Ukraine's arms deals made headlines was in September, when some media claimed that Ukraine's General Prosecutor's Office has completed its own investigation into it and was ready to launch criminal cases against ten persons. A week later the report was officially denied.
Valery Konovalyuk's allegations against Viktor Yushchenko have been dismissed by the president himself as "nonsense" and "tales".
Meanwhile, Konovalyuk himself has been under investigation as a result of the commission's work. Ukraine's Security Service accused him of disclosing state secrets in the report. The charges were later denied by a court, which found no crime in the deputy's actions.
Read also: Welcome to fabulous Chernobyl
You can share this story on social media: