UC Berkeley offers scholarships to illegal immigrants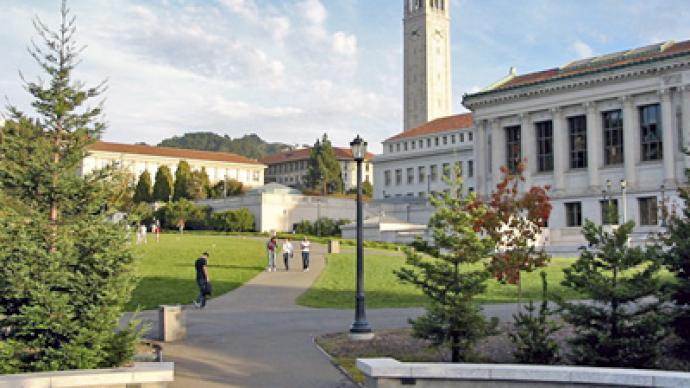 The University of California at Berkeley is using $1 million to fund scholarships for nearly 200 illegal immigrants, which is the largest single gift for this type of scholarship any American university has ever given out.
Most of the scholarship recipients will be children of immigrants who crossed the border illegally and have grown up in the United States. Such children are currently ineligible for federal grants, loans or work-study positions, making it financially difficult for them to enroll in college.But Berkeley is a private institution and the grant came from the Evelyn and Walter Haas, Jr. Fund, a private foundation. The college proudly announced the scholarships grant on its website, announcing that 200 undocumented immigrants from 20 different countries will receive a free education at one of the nation's best universities. The average family income of each of these recipients is $24,000.Uriel Rivera, an undocumented immigrant who attended UC Berkley and was forced to drop out after a year due to the high tuition costs, is one of the scholarship's recipients. The child of immigrant parents worked hard while growing up in Los Angeles and became active in UC Berkeley's student government."As a diligent high school student in Los Angeles, Rivera thrived in the classroom and juggled numerous family responsibilities, volunteered, worked in a convenience store owned by his family and did his homework from 10 p.m. until midnight every night," Jose Rodriguez of UC Berkeley's University Relations wrote in a press release.In 2011, the California state Legislature passed the California Dream Act, which ensures that undocumented immigrants have access to state financial aid, as long as they attended at least three years of high school in the state. But without the same access to federal loans or grants, some students are gaining opportunities through the Berkeley grant that they would not have been able to receive otherwise.The university hopes its actions will prompt other schools to do the same to accommodate undocumented immigrants who have dreams of going to school."We are committed to advancing rights and creating opportunities so that all people can live, work and raise their families with dignity," said Haas, J. Fund President Ira S. Hirschfield. "These motivated, hardworking and inspiring students are an asset to our state and our country."The DREAM Act, an acronym for the Development, Relief and Education for Alien Minors Act, is a federal legislative proposal introduced in 2011 that would allow young, undocumented immigrants who grew up in the US to have a path to citizenship through college or military service. This act, which is supported by President Barack Obama, failed to pass the House of Representatives in 2010. The California Dream Act gives undocumented immigrants education opportunities, but does not help them on their path to citizenship, since their status will not change after graduation.Berkeley is taking a stand on the issue of education for immigrants, and is also donating $300,000 for the Robert D. Haas Dreamers Resource Center. The college hopes it will "serve as an inspiration for other undocumented students nationwide, and show our entire country what undocumented students are capable of achieving and contributing," said Katharine Gin, co-founder and executive director of Educators for Fair Consideration.
You can share this story on social media: