Tulsa, Oklahoma mulls name change for landmarks named for KKK leader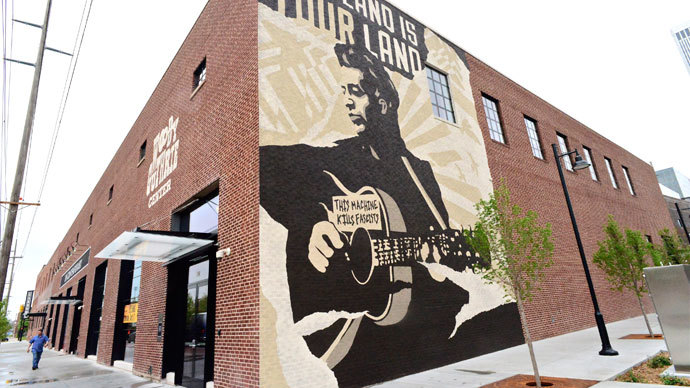 The second-largest city in Oklahoma is embroiled in controversy over whether to change the name of a large section of downtown that is currently named after an early town leader who was a prominent member of white supremacy group the Ku Klux Klan.
Wyatt Tate Brady owned a general store and hotel, operated a newspaper and signed Tulsa's town papers when Oklahoma became a state in 1907. The town father's presence still emanates throughout the city, where a street, mansions, theater, and an entire historic neighborhood are named in his honor. A new entertainment district, Tulsa's largest in a generation, according to the Associated Press, is known as the Brady Arts District. 
An article published two years ago in the Tulsa-based magazine This Land detailed a previously hidden side of Brady's legacy. The son of a Confederate soldier who fought in the Civil War, Brady was a leading member of the Knights of Liberty, a KKK group that instigated the Tulsa Race Riot that leveled the African-American community of Greenwood in 1921. An estimated 300 black people were killed and another 10,000 left homeless as a result of the row.
Brady's newspaper was accused of inciting racial tension in the years before the riot by publishing propaganda, and he himself was later accused of buying up the land that was vacated in the riot. 
"Tate Brady's prominence and wealth increased with each passing year," wrote Lee Roy Chapman in This Land. "In their tenure, his retail stores sold some $5 million worth of goods ($60 million in today's dollars), and the Hotel Brady did $3 million in business. He began to invest in coal mining operations and farming interests. In the early twenties he began expanding his property holdings, spending $1 million in property acquisitions – some of which was in Greenwood." 
African-American leaders have complained that Tulsa has glossed over its own local history. Three quarters of Tulsa residents described themselves as "very or somewhat knowledgeable about the riot," according to The New York Times, though only one national textbook publisher mentions the riot in its history books. 
"There are councilors who are concerned and ashamed that we have this name, and we know what Mr. Brady stood for," Jack Henderson, Tulsa's only black city council member, told the AP, adding that the downtown district is "growing like it's never grown before."
"So changing the name of the street isn't going to stop the momentum," he said. Henderson planned to reintroduce a bill Thursday that would change Brady Street's name to Burlington Street. 
Other lawmakers, along with a contingent of local business owners, have expressed doubt over the idea, in part because of the Brady Arts District's prominent place in city marketing. 
"Rather than seeking to revise history, today's residents, visitors and merchants should regard the name as a demonstration of a new set of principles," Brady Arts District entrepreneurs wrote in a July 14 letter. "Removing the name is to surrender to the past." 
Approximately 40 people who lived through the riot still survive. Most of those still living were too poor to relocate in 1921, forced to subsist in tents where their homes stood before being looted and burnt to the ground. 
"These people are still alive," Reggie Turner, who has campaigned for reparations for the survivors, told the Times in 2011. "And despite their dwindling numbers – in fact, because of their dwindling numbers – it should be easy for us to take care of them."