Tulsa, Oklahoma delays vote on renaming street that honors KKK member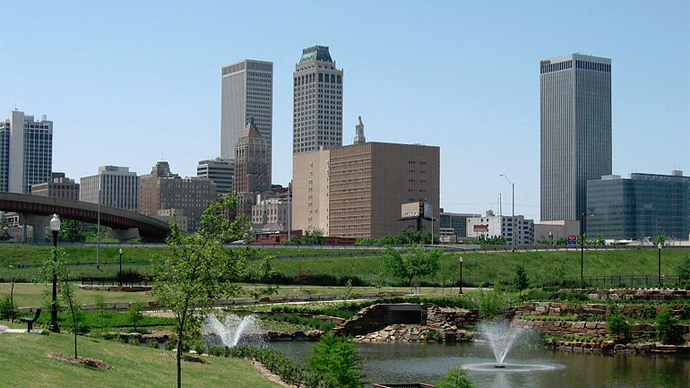 Oklahoma lawmakers have delayed a vote that will determine whether to rename a city street currently named after a town founder who was in the Ku Klux Klan and allegedly instigated a vicious race riot nearly 100 years ago.
Wyatt Tate Brady owned a general store and hotel, operated a newspaper, and signed Tulsa's town papers when Oklahoma became a state in 1907. The second-largest city in the Midwestern state still celebrates his memory - with a street, a mansion, a theater, and a fledgling entertainment district named in his honor. 
But a 2011 magazine article rekindled old racial tensions when it reminded Tulsa residents that Brady - the son of a Confederate soldier - was a leading member of the Knights of Liberty white supremacist group. The Ku Klux Klan faction has long been blamed for antagonizing the infamous 1921 Tulsa riots, which killed approximately 300 African-American residents and left 10,000 more homeless after the neighborhood was destroyed. 
During a three-hour meeting Thursday night, Tulsa's City Council heard testimonies from dozens of citizens who both favored and opposed renaming Brady Street. The majority, a 40-8 margin according to the Associated Press, said that a new name would help Tulsa distance itself from a history of racism. 
The council vote was deadlocked at a 4-4 tie after the debate, with lawmakers agreeing to postpone a formal vote until next week – when the ninth councilmember will be on hand to swing favor in one direction. 
"This is the craziest thing I ever heard in my life," Councilman Jack Henderson, Tulsa's only black councilman, said after the tie. "We had an opportunity to do right here tonight." 
In its current incarnation, Brady Street runs through the Brady Arts District - formerly a run-down area of town that that now hosts an array of restaurants, a cigar bar, and a museum dedicated to folk musician and Oklahoma native Woody Guthrie. The development project is Tulsa's largest in generations and, Brady critics say, should not be given the namesake of a notorious white supremacist. 
The newspaper Brady owned has been blamed for pushing racial propaganda in the years leading up to May 31, 1921, when a local black man allegedly assaulted a white woman in an elevator. White residents then levied a 16-hour assault on Greenwood - the primarily African-American district referred to by historians as "Black Wall Street." The rampage destroyed much of the community, including the hospital. 
Brady himself participated in the riot as a night watchman and later reported seeing "five dead negroes," one of which had been dragged behind a car, according to This Land magazine.
Proponents of keeping Brady Street's name have said that it is better to learn from the past than to erase it. Others claim that belief is rooted in racism, especially in Tulsa, where racial demographics remain segregated. 
"It's a racially divided city; we don't want to admit it, but it is," Tulsa native Chris Brown told AP. "This is what we've been reduced to: asking for a street name."
You can share this story on social media: