Tsarnaev's lawyers demand communication restrictions be lifted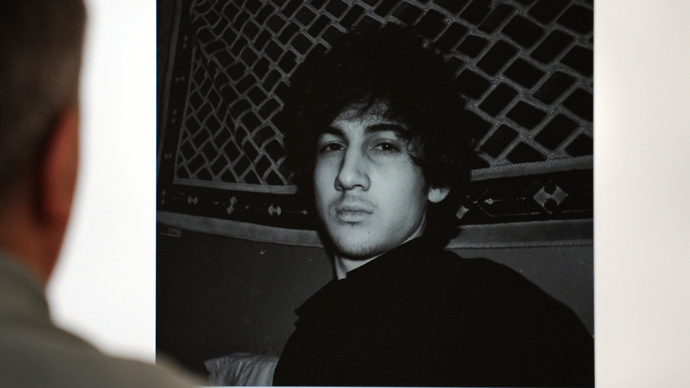 Federal prosecutors squared off in court with attorneys for accused Boston Marathon bomber Dzhokhar Tsarnaevon Tuesday as both sides prepare to bring the high-profile terrorism case to trial.
Should the government's attorneys have their wish, a jury will begin to weigh in on the case in around one year's time with a trial that would start next autumn. Legal counsel for the ethnic Chechen man argued in court this week that more time is needed, however, and again asked for restrictions on their client to be relaxed.
United States District Court Judge George A. O'Toole Jr. did not decide on a date for the trial to get underway during Tuesday's hearing, but did tell prosecutors that they don't have long to figure out if they'll ask for a jury to consider the death penalty when 20-year-old Tsarnaev eventually has his day in court.
Tsarnaev was not present at Tuesday's hearing, but attorneys on both sides of the case nonetheless spent roughly 90 minutes trying to prepare for an unprecedented terrorism case sure to bring more complications en route to its eventual start.
Prosecutors in the office of US Attorney Carmen Ortiz said Tuesday that they will decide within a week whether or not they'll request capital punishment as a possible sentence if Tsarnaev is found guilty. He is accused of detonating twin pressure-cooker bombs at the Boston Marathon in April with the assistance of his 26-year-old brother, Tamerlan Tsarnaev, who was killed by police during a manhunt for the suspects that occurred days later outside of Boston.
Once Ortiz's office makes a determination, US Attorney General Eric Holder will have until January 31 to decide if the federal government should pursue the death penalty.
Before the case even goes to trial, though, Tsarnaev's counsel says the government must release more documents about the April 15 incident to ensure a fair hearing. They also believe unfair restrictions are being imposed on their client.
Of particular contention at the moment, at least among defense attorneys, is the government's insistence that special administrative measures, or SAMs, are in place to prohibit how much access Tsarnaev has to people outside of the prison where he is being held. Defense attorney Timothy Watkins said the SAMs in place now require lawyers to be on hand for any "dissemination of information" to a third party, which presents an unusual barrier with regards to sharing intelligence among potential witnesses.
"The problem is who gets to decide which [materials] are legitimate materials related to defense and which aren't," Watkins said according to Cambridge Chronicle. "Given the qualifications and the clearances the [defense team] has already undergone to be able to go into the detention facility, it's really a restriction where there's no reason for it," he said.
According to the accused's counsel, the restrictive terms of their client's confinement also make it incredibly difficult to discuss evidence — much of which they say the prosecution has not released. Additionally, Tsarnaev's attorneys insist a starting date next fall does not provide adequate planning time at all.
"This is not a level playing field," defense attorney Miriam Conrad told the court. "It appears the government is trying to retain every possible advantage in this case for itself."
But despite complaints from the defense, prosecuting attorneys insist they have acted fully in compliant with the rules and have presented all that is needed for a fair trial to soon start.
"We have voluntarily stepped up, combed through all of our files carefully, to identify both evidence that the defense has identified as mitigating and that we have identified as mitigating, early so they have the benefit of that evidence," Assistant US Attorney William Weinreb said according to the Chronicle. "We've erred on the side of caution, and we've produced everything we believe corresponds to genuine categories of favorable material evidence that they could use."
Conrad and other counsel for Tsarnaev aren't convinced, however, and said, "There's an overlap between evidence related to the crime itself and evidence related to the punishment.
"The question is, 'When does the government have to provide this mitigating evidence?'" Conrad asked.
"The fact that we are in the pre-trial phase expands rather than contracts the government's disclosure obligation," Conrad added to the Boston Herald. "The withholding of information shouldn't be reviewed with the benefit of hindsight after a trial."
"The government has nothing to hide," Weinreb said. "We are not in any way attempting to inhibit the defense from conducting a thorough investigation of this case. Obviously, it was a potential death-penalty case from the start. They don't have to open their files to us and we don't have to open our files to them."
Along with his older sibling, Tamerlan, prosecutors say Dzhokhar Tsarnaev committed the biggest act of terrorism on American soil since September 11, 2001. His next hearing is scheduled for February 12 at 10 a.m. in Boston.