TSA lets rapper keep his weed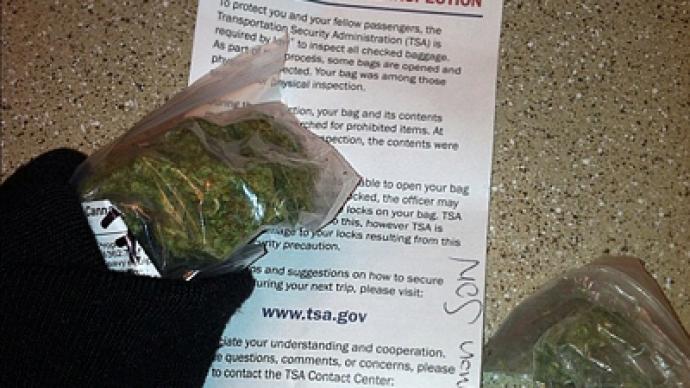 When he's not recording tunes like "Personal OG" and "National Anthem (Fuck the World)," rapper Freddie Gibbs likes to travel. He also likes to smoke weed. A real lot.
Somehow for Gibbs, real name Fredrick Tipton, he didn't think there would be much of a problem with combining those two passions lately, even if it involved the US government's notoriously tough Transportation Security Administration in the equation. And — yes, somehow for Gibbs — he was right.The rapper took to Twitter on Wednesday to let the micro-blogosphere know that while boarding a flight this week, a TSA agent managed to intercept Gibbs' stash of marijuana but, rather than confiscate it, issue a citation or make an arrest, the officer put the contraband back in the passengers luggage along with a note.It read, "C'mon, son."Gibbs took a photo of the weed and the lovely little note from the TSA and posted it to his Facebook account, where around 40,000 fans follow his happenings in 140-character blurbs. "LOL," added Gibbs.In a cookie-cutter response from the Administration, a spokesperson issued a statement saying, "TSA takes all allegations of inappropriate conduct seriously and is investigating this claim." Gibbs posted the photo after landing in Denver, Colorado and tweeted from Los Angeles, California earlier in the day; both states have legalized marijuana for medical purposes. While the rapper posted a photo of a sizeable stash of weed Friday afternoon with a "Rx" label, it's not exactly clear if it was obtained with a doctor's permission — or why Gibbs needed to transport a half-ounce or marijuana across the state lines in a plane knowing he would go through a government checkpoint.In Colorado, unlawful possession of a half-ounce of pot is a felony offense which comes with up to three years in prison and upwards of $100,000 in penalties for only a first offense.Gibbs isn't about to let the man keep him down, however. "Still smoking," was his latest Twitter posting as of this publishing.