TSA misconduct increases by 26 percent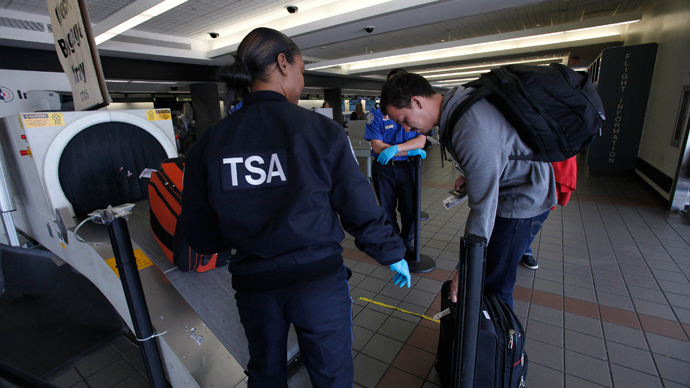 Transportation Security Administration officers were cited in more than 9,600 cases of misconduct from 2010 to 2013, and complaints against the agency rose by 26 percent in the last three years.
A new government report reinforces TSA's reputation of misbehavior that air passengers have long complained about. The Government Accountability Office on Tuesday released its findings, which highlight cases in which TSA officers have stolen money from luggage, accepted bribes from drug dealers, and slept on the job.
The report cites a 26 percent increase in misconduct among TSA employees since 2010, and references the nature of the grievances against them.
Between 2010 and 2012, there were 2,000 reported cases of TSA employees who were sleeping on the job, not following procedures or allowing family members to bypass security checkpoints. There were 3,000 cases of TSA agents showing up late, not showing up at all, or leaving the job without approval.
The report references a specific case in which a TSA employee left an assigned checkpoint to help a relative carry her bag past the screening area. The agency later discovered that the bag contained "numerous prohibited items."
There were 56 cases of reported theft during the three-year span, involving both cash and electronics. In one case, two former TSA employees admitted to stealing $40,000 from a bag at New York's John F. Kennedy International Airport. Using an x-ray machine, the screeners discovered a wad of cash totaling $170,000, and removed some of the money. They were later arrested.
"[Stealing] was so easy," Pythias Brown, a former TSA officer who stole more than $800,000 worth of goods, told ABC News last year, describing the agency's culture of theft. "I walked right out of the checkpoint with a Nintendo Wii in my hand. Nobody said a word."
Two subcommittees of the House Homeland Security Committee held a hearing on Wednesday to question TSA officials about the agency's response to misbehavior. TSA Deputy Administrator John W. Halinski told the joint committees that employees are punished for their delinquencies.
"If they're stealing, they're doing drugs or breaching the security system intentionally and I can prove it, they're out," he said. But the GAO findings show that this is rarely the case.
The report notes that very few cases of misconduct were punished, and only 50 percent of the workers accused of sleeping on the job were reprimanded. Out of the total number of cases that resulted in penalties, 47 percent resulted in a letter of reprimand, 31 percent resulted in suspensions, and only 17 percent resulted in the employee's termination from the agency. The agency's lack of response to misbehavior is a cause for concern, but Halinski claims that letters of reprimand are more serious than they might appear. He said the letters can prevent employees from receiving bonuses or promotions, and haunt them throughout their careers.
"It's a serious thing," he said. But aviation security expert Jeff Price told ABC News that he is not convinced that any of the TSA's penalties are helping to stop employees from misbehaving. In 2010, there were 2,691 reported cases of misconduct. In 2010, there were 3,408 – a 26 percent increase.
"I get worried about this because in the history of air terrorism, employee security has been the one gap that has been the hardest gap to cover," he said.
The GAO report urges TSA to improve how the agency monitors and responds to reports of misconduct.
You can share this story on social media: