Undercover report reveals rampant TSA screw-ups at Newark airport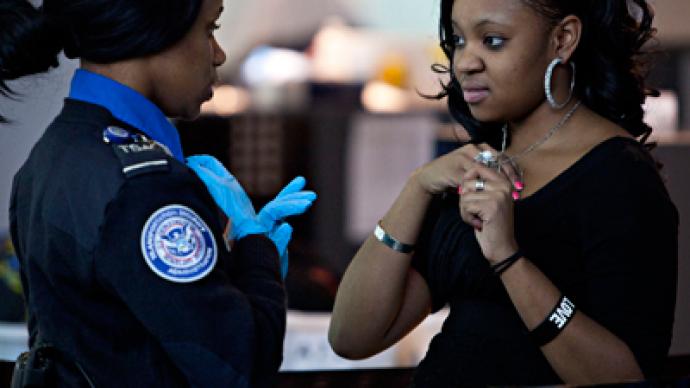 An undercover investigation targeting TSA procedures at Newark Liberty International Airport has leaked, and with it comes a shocking statistic: security screeners there are performing pat-downs properly only 16.7 percent of the time.
New Jersey's Star-Ledger newspaper has unearthed the results of a secret, internal investigation carried out earlier this year by clandestine officers of the Transportation and Security Administration, the US Homeland Security Department subdivision in charge of patting down passengers and combing for contraband at airports across the country. According to the findings, however, the TSA can hardly cut the mustard when it comes to fulfilling their duties at Newark, one of the busiest air travel hubs in the entire United States and the departure point of one of the four planes hijacked during the September 11, 2001 terrorist attacks.The Star-Ledger reports that the TSA agents at Newark are performing their job duties correctly just a fraction of the time, executing standard pat-downs properly only in 16.7 percent of cases and taking appropriate action with prohibited items passing through check-points in around one-quarter of the instances that they were evaluated on."There's that often-repeated phrase, 'We've got to get it right all the time,'" Pace Law School Professor Thomas McDonnell tells the paper. "When it's under 50 percent, under 20 percent, that to me is very shocking."The latest news comes courtesy of a document obtained by the Star-Ledger titled the "PACE Airport Evaluation" report, borrowing for a TSA acronym for Presence, Advisements, Communication and Execution; the Star-Ledger says that those four criteria alone are just a sampling of the nearly 50 individual procedures or skills that undercover agents analyzed during a sting of Newark screening check-points earlier this year.Before the PACE Airport Evaluation report was finalized in June 2012, a team of undercover agents from other airports around the US traveled to Newark and either watched from afar to witness how local officials handled screenings or else walked themselves through the check-points to get a first-hand taste of how things are done there."PACE evaluation is designed to be a 'snapshot in time' to assess various areas of passenger interaction," the agency explains in an official statement. "TSA uses the results as a guide to educate its workforce on areas where its employees are strong and areas where it can improve."But while the report suggests that Newark agents acted properly only a fraction of the time with some screening procedures, in other instances they were at the top of their game. "In 17 categories, including removing prohibited items found during physical searches and exhibiting good listening skills, screeners were observed carrying out their duties properly 100 percent of the time," Star-Ledger reports.Elsewhere, things were far from favorable: the PACE report reveals that TSA agents at Newark informed passengers that they could opt-out of the high-tech body scan machines in zero instances, failing them terribly in that particular portion of the analysis. Earlier this year, eight agents at the New York City-area airport were relieved of their duties after being accused of sleeping on the job during their shifts.
You can share this story on social media: