NYC trader suicide becomes 11th this year in financial community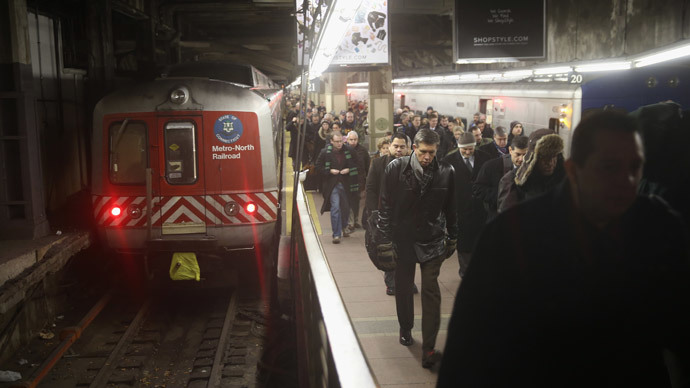 The financial world suffered another apparent suicide this week, as a New York City trader ended his life by throwing himself in front of an oncoming train.
The incident occurred Tuesday morning around 6 a.m. in Syosset, New York, when 47-year-old Edmund Reilly was struck by a Long Island Rail Road commuter train. Declared dead at the scene, Reilly's identity was confirmed by LIRR, which also stated an investigation was underway.
According to the Daily Mail, Reilly's suicide marks the 11th time this year that an employee in the financial world has taken his or her own life. Witnesses said they saw Reilly – who worked for Vertical Group in Manhattan – standing near the tracks before jumping in front of the train.
Speaking with the New York Post, a family friend said he saw Reilly over the weekend and that he "didn't look good."
"Eddie was a great guy," said Vertical Group managing director Rob Schaffer to the Post. "We are very upset and he will be deeply missed."
As RT reported last month, there has been a string of suicides this year related to those working in finance. At one point in late January, four individuals killed themselves within a span of one week.
The first finance-related death this year was recorded on January 26, when Deutsche Bank AG's William Broeksmit, 58, was found hanged in his home after reportedly committing suicide. Only a day later, Tata Motors managing director Karl Slym, 51, was found dead in his hotel room in Thailand, also an apparent suicide.
Meanwhile, two JP Morgan Chase employees were declared dead after tumbling from the rooftops of their respective buildings in London and Hong Kong. Overall, three JP Morgan employees have died from suspected suicides this year, though they are not believed to be connected.
Just recently, CEO Autumn Radtke of First Meta, a digital currency exchange firm, was declared dead after reportedly jumping from her apartment building in Singapore. Police did not believe her death to involve any third party, and a fellow bitcoin entrepreneur said Radtke's death was not connected to any business dealings.
In at least one case – that of Broeksmit – there were reports of problems at work, but details were nonexistent and Deutsche Bank denied the claim.
Jobs on Wall Street and within the banking world have become somewhat infamous for the burden they place on employees through long hours, intense competition and stress. As RT reported previously, some institutions have started informing their staff to take more time off work, while countries like Belgium and the Netherlands have even shortened their work week from 40 hours to 30.
You can share this story on social media: