Financial death toll rises to 6, as JP Morgan employee jumps from Asian HQ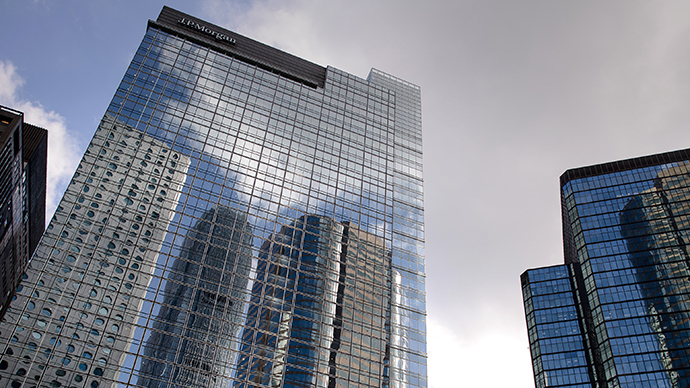 A third JP Morgan employee has died under mysterious circumstances in a matter of few weeks. A still unidentified "Chinese male in his thirties" jumped from the roof of Charter House, the 30 floor Hong Kong headquarters of JPM.
An eyewitness told the South China Morning Post he saw a man climb onto the roof of the skyscraper shortly after lunchtime on Tuesday.
#DOOMPAUL: ANOTHER BANKER SUICIDE THIS MORNING http://t.co/Cfn4zXiUCCpic.twitter.com/u4ACn54z0v

— ThirdPosition (@Third_Position) February 18, 2014
Despite attempts to talk him down, the man jumped before emergency crews arrived, landing on the road outside the building. The man who jumped was taken to Ruttonjee Hospital where he was declared dead on arrival.
I believe i can fly. 1 banquier de jpm de moins http://t.co/DT0TkeIMeqpic.twitter.com/SjKfmYYzXu

— vladimir guez (@vladimirguez) February 18, 2014
The unidentified man, aged about 33, was a junior employee who served a supporting function at the bank and wasn't involved in investment activity, according to Bloomberg. Rumors circulating in the media say that his last name was Li.
A colleague of the man said that before the suicide he had complained about heavy work-related stress, though police say no suicide note has been found.
"Out of respect for those involved, we cannot yet comment further. Our thoughts and sympathy are with the family that's involved at this difficult time," JP Morgan said in an e-mailed statement.
The latest apparent suicide marks the 3rd sudden death at JP Morgan and the 6th in the global financial world in just a few weeks.
On February 3, a 37 – year old JP Morgan executive director died at his home in Stamford, Connecticut. The cause of death, however, remains unclear and will be determined after a toxicology report is completed.
About a month ago, 39-year-old Gabriel Magee, a JP Morgan vice president in technology operations, died after falling from JPMorgan's London headquarters.
Other apparent business suicides include a 58-year-old former senior manager for Deutsche Bank, who was found hanged in his home; Karl Slim, the managing director of Tata Motors aged 51, and 50-year-old Mike Dueker who worked for Russell Investment and was found dead on January 29 close to the Tacoma Narrows Bridge in Washington State after being reported missing on the same day.
Also reporter David Bird, who works in the Dow Jones newsroom went missing on January 11 when he left his New Jersey home for a walk.
Fine burden
Major world banks are under regulatory scrutiny over their so called "pre-crisis cheating" and multi-billion dollar rigging of benchmark and commodity rates.
JP Morgan and Deutsche Bank have been hit the hardest, with JPM being fined a record $4 billion and Deutsche Bank facing a $1.93 billion bill.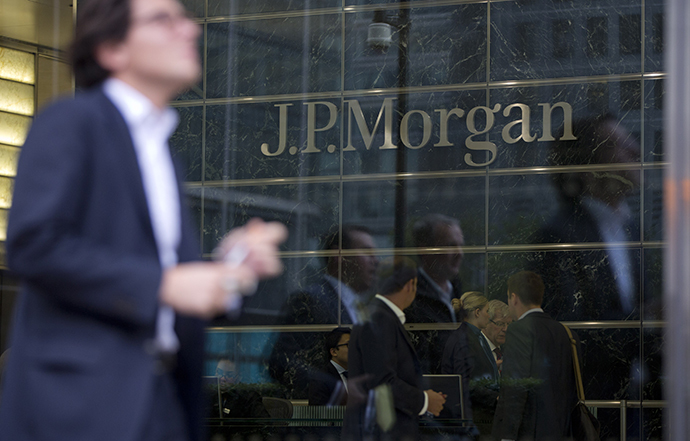 In January, JP Morgan also admitted it had aided the Bernie Madoff Ponzi scheme by turning it a blind eye, but the US Department of Justice decided then not to send anyone from the firm to jail under a deferred prosecution agreement.
In March 2013 the US Senate Permanent Subcommittee on Investigation published a 307 page report that described in detail JP Morgan's financial irregularities and deliberate masking of some critical financial information.
More recently, JP Morgan was fined $614 million for concealing the full risk associated with the mortgage securities it sold Freddie Mac and Fannie Mae ahead of the crisis.
In September last year JP Morgan Chase agreed to pay $920 million in fines to settle probes related to the "London Whale" financial debacle of 2012. Bank employee Bruno Iksil, nicknamed "London Whale" for the size of his operations, was notorious for his "casino bets" of other people's money, which caused the bank about $6.2 billion in losses.
Overall, eight world banking giants were fined a record combined total of €1.71bn by the European Commission for manipulating with the benchmark Libor and Euribor rates.
According to the EU investigation, Deutsche Bank, Barclays, Société Générale, RBS, UBS, JPMorgan, Citigroup and RP Martin were part of two separate illegal cartels which conspired to manipulate Euribor and Libor to benefit their own positions in euro and Japanese yen-denominated interest rate derivatives markets.
Deutsche bank is now running internal probes into whether its traders manipulated interbank and foreign exchange rates.
You can share this story on social media: