'Dead' banker who embezzled tens of millions arrested for fraud in Georgia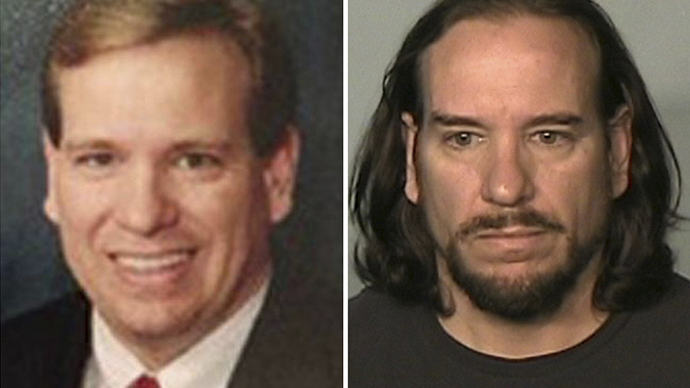 ​A banker wanted by the FBI for a $21 million fraud case was arrested Tuesday in Georgia after being stopped for a minor traffic violation. The man disappeared a year and a half ago after penning a note announcing his planned suicide.
Aubrey Lee Price, 47, was stopped along I-95 in Glynn County, Georgia for a tinted window violation, according to local police. Officers said they soon determined he was wanted by the FBI. Price was to appear Thursday before a federal judge in Brunswick, Georgia.
The arrest comes over a year since a Florida judge declared Price legally dead. Despite the ruling, the FBI continued the search, offering a reward of $20,000 for Price's capture.
Price was last seen in June 2012 boarding a ferry in Key West. Florida. He vanished after sending a letter to acquaintances and federal regulators admitting to losing the money and pledging to kill himself.
In 2010, an investment group Price controlled infused enough money into the failing Montgomery Bank & Trust to earn a controlling stake. As director in charge of investing the bank's capital, he is alleged to have then stolen, misappropriated and embezzled around $21 million from MB&T, according to his indictment.
Upon the charge of wire fraud, a federal arrest warrant was issued for Price in the United States District Court in Brooklyn on June 28, 2012. The Securities and Exchange Commission froze his assets in July 2012.
"In order to conceal mounting losses of investor funds, Price created bogus account statements with false account balances and returns that were provided to investors and bank regulators," the SEC said.
Price provided MB&T officials with fraudulent account statements which indicated the bank's capital was safely held in a separate account.
The former banker had financed the building of churches in South America and had done missionary work in the same areas, the FBI says. He traveled to Venezuela on June 2, 2012, weeks before he disappeared.
Via a 22-page letter entitled "Confidential Confessionfor Regulators," Price wrote he lost a large sum of money through trading, his arrest affidavit states. He also said he planned to commit suicide by jumping from a ferry boat off the Florida coast.
"My depression and discouragement have driven me to deep anxiety, fear and shame. I am emotionally overwhelmed and incapable of continuing in this life," said the confession letter supposedly written by Price, AP reported.
"I created false statements, covered up my losses and deceived and hurt the very people I was trying to help," he said, adding no one else knew of the fraud.
MB&T failed shortly after Price's disappearance in July 2012.
Surveillance footage captured Price boarding a ferry in Key West bound for Fort Myers, Florida on June 16, 2012.
Though his body was never found, a judge declared Price dead a year ago, according to AP.
You can share this story on social media: