Time, CNN suspend Zakaria for plagiarism despite apology
Published time: 11 Aug, 2012 03:07
Edited time: 11 Aug, 2012 07:07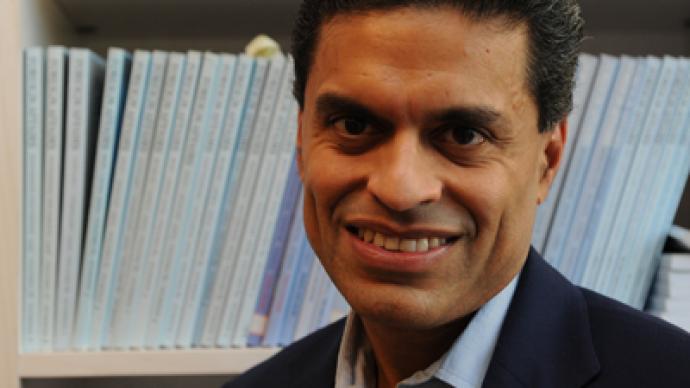 CNN host and Time editor-at-large Fareed Zakaria was suspended by the TV channel and the magazine for copying another author's material on gun control for his own column and blog.
­The journalist issued a public apology on Friday in which he acknowledged the "lapse."
"Media reporters have pointed out that paragraphs in my Time column this week bear close similarities to paragraphs in Jill Lepore's essay in the April 23rd issue of the New Yorker. They are right. I made a terrible mistake," Zakaria wrote in an apology according to Reuters. "It is a serious lapse and one that is entirely my fault."
Time spokesman Ali Zelenko said the magazine accepted Zakaria's apology but would suspend his column for one month, "pending further review."
"What he did violates our own standards for our columnists, which is that their work must not only be factual but original; their views must not only be their own but their words as well," Zelenko said in a separate statement according to AP.
CNN said it had removed Zakaria's blog post on the network's website where their host presented the same material. CNN had taken Zakaria off the air for his misstep but assigned no time limit on the suspension.
"We have reviewed Fareed Zakaria's Time column, for which he has apologized. He wrote a shorter blog post on CNN.com on the same issue which included similar unattributed excerpts. That blog post has been removed and CNN has suspended Fareed Zakaria while this matter is under review," said CNN spokeswoman Jennifer Dargan.
Fareed Rafiq Zakaria, 48, is an Indian-American journalist and author. He has served as editor-at-large of Time since 2010 and hosts the show, "Fareed Zakaria GPS" on CNN. Zakaria specializes on issues related to international affairs, trade and foreign policy of the United States. In 2010, India's government honored him for his contributions to journalism.