Thousands protest against police ahead of 13-year-old shooting victim's funeral
Published time: 29 Oct, 2013 23:06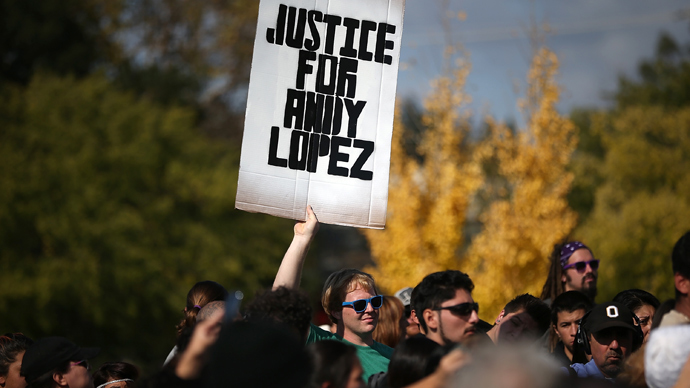 Over 1,000 people showed up to protest the death of Andy Lopez hours before the funeral for the 13-year-old boy was scheduled to take place. California police fatally shot Lopez last week when they saw him carrying what turned out to be a toy rifle.
The Tuesday rally began at approximately 12pm local time and only seemed to grow as the day went on. Demonstrators planned to march through the small city of Santa Rosa, California, located approximately 50 miles north of San Francisco.
Signs reading "We are all Andy Lopez, the whole damn system is guilty" and "Andy did not have to die" were on display alongside police officers in riot gear who were monitoring the crowd.
Lopez was walking through Santa Rosa on the way to a friend's house carrying what his father described as a "toy" Airsoft gun, often used by teenagers to shoot small plastic BBs. Two sheriff's deputies encountered the boy and claimed they ordered him to drop the weapon. When he did not, they said, one of the two officers fired eight rounds - hitting Lopez seven times and twice fatally.  
The entire incident reportedly unfolded in no more than 10 seconds.
The incident has sparked outrage throughout Santa Rosa and surrounding communities, with a number of candlelight vigils taking place over the past week to remember Lopez. Police advised demonstrators planning on attending the Tuesday rally to not bring any replica weapons, which were brought to previous vigils.
"The demonstration last Friday was mostly peaceful, but there were incidents that created risk and were harmful," a police statement said. "Some demonstrators brought replica weapons to the march, and at least one person displayed a very realistic looking replica handgun to passing citizens in a threatening manner. That incident created unnecessary risk for all involved and forced Santa Rosa Police Officers to respond."
A quiet faction of the population has continued to support the law enforcement community on social media and local websites, arguing that no one should ever walk around with a gun out in the open, real or fake.
The first rally came at noon, with another beginning at the sheriff's office at 3pm local time, ahead of the 5pm funeral. Teachers, parents, and other community leaders addressed the crowd on a microphone through much of the day while kids in the area chanted "No justice, no peace, f**k the police."
Still, with protesters busing in from all around California, organizers took to Facebook to ask the crowd to "not let things get out of hand for the respect of the family." Others, while noting that no fake guns appeared to be on hand Tuesday, advocated for a cathartic demonstration.
"We, as a community have been faced with the tragic and senseless death of a mere boy, Andy Lopez," said a Facebook post. "Moreover, we, as a community have a sacred duty to not let young boy's death be in vain. Let us rally – LET US MARCH!"
The protest comes just one day after the sheriff's department confirmed that the deputy who killed Lopez was 48-year-old Erick Gelhaus. The officer is a 24-year-veteran of the force, an Iraq War veteran, and a frequent contributor to publications advocating gun use, according to NBC Bay Area.
Gelhaus has declined all media requests, but a police report detailed that he fired upon Lopez when Lopez had his back toward the police and appeared to be raising the weapon.