North Carolina police refuse to release video of cops shooting unarmed man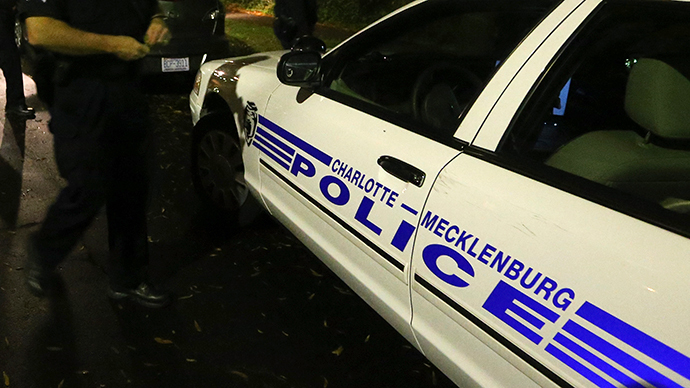 North Carolina police are refusing to release video footage and other evidence that could shed light on an unarmed man's death at the hands of an officer.
According to Chris Chestnut, the lawyer representing the unarmed man's family, the police department's unwillingness to release the footage recorded by a police cruiser's dash cam casts doubt on the integrity of an ongoing investigation.
Last month, 24-year-old Jonathan Ferrell was shot and killed by Charlotte-Mecklenburg Police Officer Randal Kerrick, who was responding to a late-night 911 call. Kerrick is facing voluntary manslaughter charges.
"We want the facts out in the public domain. Not part of them, all of them," Chestnut said during a press conference on Tuesday, according to Reuters.
Police claim that the footage is not public record and won't be released. The department has, however, released an audiotape of the 911 call that was made at the time. Ferrell was knocking on a door of an unknown household, and the audiotape reveals that the woman inside thought he was trying to break in.
When three officers arrived on the scene, Ferrell ran toward them unarmed. A Taser was used on him, but police say it did not stop Ferrell, who was then shot 10 times by Kerrick.
As Reuters reports, police later discovered that Ferrell's car had broken down a mile and a half away, and said he was likely looking for help when knocking on the woman's door.
Chestnut has seen the footage himself, and argued that it would eliminate the suggestion that Ferrell was acting aggressively toward the police. He also said releasing the tape of the 911 call but not the incident itself is not fair to Ferrell.
"You can't just release the facts that are favorable perhaps to the officer but not to Mr. Ferrell," Chestnut said.
"We're beginning to get concerned about the integrity and the efficiency and, quite frankly, the speed of this investigation."
If the dash cam footage does, indeed, contradict the police's story, it would further raise questions about law enforcement's trustworthiness in similar cases. On October 18, video footage surfaced of Dallas, TX police shooting a mentally ill man after claiming he had aggressively walked toward them with a knife. The footage, however, revealed that the man actually backed away from the officers and stood his ground before he was shot.
Last year, a video recording also exonerated a man from Fort Lauderdale, FL who earned a $30,000 settlement from the city commission. Police arrested Winston Dudley for disorderly intoxication and resisting arrest, but footage showed that Dudley did not back away or resist officers, nor did he drink as they were questioning him.
You can share this story on social media: