Cop gets four years for brutal murder of innocent shopper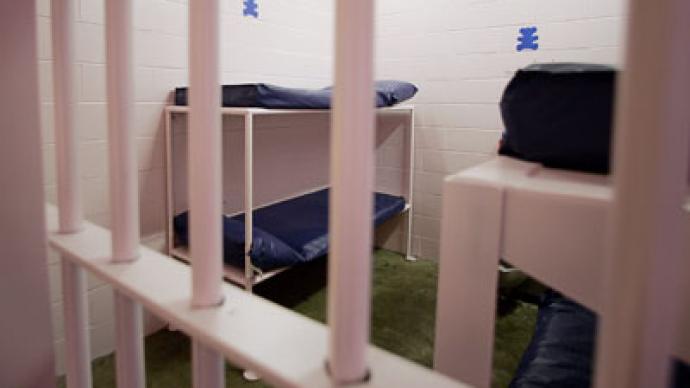 Former police officer Karl Thompson Jr. will serve four years in prison after being sentenced last week for the death he caused of a mentally disabled man inside of a Spokane, Washington convenience store in 2006.
It isn't likely to be the closing chapter in a six-year-old story that has become one of the biggest criminal cases out of the Pacific Northwest town in recent years, though. Defense attorneys for the disgraced officer say they plan on appealing the sentence and, according to KHQ News, Thompson will receive his pension while spending the next 51 month in prison. In the meantime, though, it's the most recent episode in a lengthy court battle to prosecute a police officer who not only assaulted and killed a man never questioned nor charged with a crime, but who also went out of his way to lie about his actions to try to stay out of prison. According to trial testimony, the last words 36-year-old Otto Zehm ever said before being brutally beaten inside a Spokane shop was, "All I wanted was a Snickers bar."As crime reporter Linda Thomas writes, though, "This is a story of lies, none of them told by Zehm."As the tale goes, Zehm regularly went to the Spokane Zip Trip every night after picking up a few bucks in order to indulge on a routine feast of sugary snacks and soda. On March 18, 2006, things never made it that far. Zehm was taking out money from a nearby ATM when a group of teenagers phoned 911 and told a dispatcher that the mentally disabled janitor looked like he was trying to steal from the automated teller machine. The car followed him to Zip Trip, updating the dispatcher all the while, until Officer Thompson was the first cop on the scene and took matters into his own hands."Twice the officer ordered Zehm to 'drop the pop,'" Thomas writes, but the bewildered convenience shopper wasn't quite sure why he was being approached, a fact only made more clear by surveillance camera footage that caught most of that night's events on tape. Also included on that footage is Thompson bludgeoning Zehm with his baton — seven times in eight seconds, at one point — then discharging his Taser gun on the victim and beating him some more.Then Thompson hogties Zehm, on film. Along with other officers that eventually made it into the store, Thompson flipped the bleeding and bruised man onto his stomach and then strapped a plastic mask over his face. Investigators believe he stopped breathing around three minutes later, but it was two days before Zehm was declared dead. At that point, coroners concluded that he passed away from "lack of oxygen to the brain due to heart failure while being restrained on his stomach.""This is a case where an innocent man died never understanding why he had been attacked," US Attorney Victor Boutros said during last week's sentencing.Fellow prosecuting US attorney Tim Durkin told the court, "There is compelling medical evidence in this case that Mr. Zehm sustained serious bodily injury." Thompson initially denied using his baton, though, saying at first that it would have constituted unjustifiable deadly force. Testimonies from witnesses and other evidence later brought out the truth, though, and, eventually another charge against the officer: making a false statement. When Thompson did come clean with the truth, he said his actions were justified since he was threatened by the plastic bottle of soda the Zehm was holding when he was first approached, Courthouse News Service reports.Thompson was sentenced last week after being convicted a year earlier and has been quickly transferred to a federal holding facility while prison officials try to figure out the best place to put the officer to serve the rest of his barely four-year-long sentence. Meanwhile, his attorney intends to convince the court to cancel his client's time behind bars.Originally, defense attorney Carl Oreskovich asked the court to hand out a sentence of only zero to 16 months for Thompson, insisting that none of his client's actions had contributed directly to Zehm's death. Prosecutors were looking at 11 years."I did not intend to harm Mr. Zehm that night, and did not act in malice," Thompson told the court.Speaking outside the court room last week, Oreskovich said, "It's been a hard fought case," and that "there are issues upon issues that will go up on appeal, and the issues are substantial." Just two months earlier, Oreskovich had unsuccessfully asked a judge for a retrial. "We think that the right decision would have been to grant us a new trial and we are optimistic that the court of appeals will agree," Oreskovich told The Spokesman-Review in the weeks before his client's sentencing. Now that Thompson has been transferred to federal custody, Oreskovich is already trying to tackle that issue and have his client released so that the Ninth Circuit Court of Appeals can review the judge's decision to detain Thompson immediately after last week's sentencing. Thompson's full conviction was for use of excessive force and lying in the ensuing investigation. A separate probe is currently underway to determine if other officers with the Spokane Police Department attempted to cover-up the truth of the matter during the six years it took to bring Thompson to justice. Some other officers have already been reprimanded for their role, though: of the seven cops in all that were involved in detaining, beating and killing Zehm, three received one day of paid administrative leave. An attorney for Zehm's estate in a civil case tied to the matter confirms to the Spokesman-Review that the defense's counsel was comped by taxpayer funds and, according to the latest report out of KHQ News, the 60-year-old Thompson will receive his pension from behind bars — assuming Oreskovich fails with his attempts to have his sentence overturned.
You can share this story on social media: