Anaheim mayor demands federal investigation after cops kill two men in two days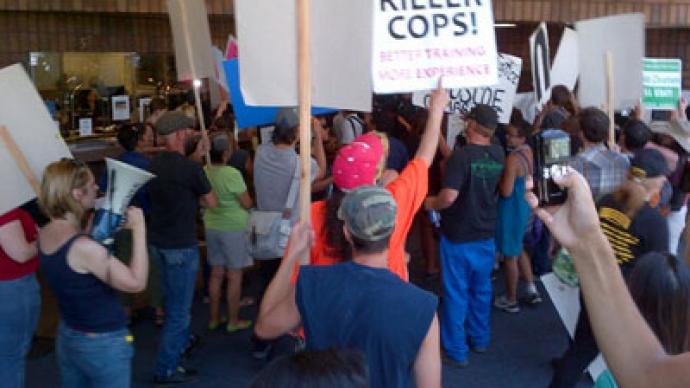 The mayor of Anaheim, California is asking for federal assistance in an investigation of the local police department after law enforcement officers shot and killed two men in separate incidents over the weekend.
Anaheim, California Mayor Tom Tait is looking for answers after two people were gun downed in unrelated officer involved shootings this week, triggering city-wide protests that have targeted area cops for alleged police brutality. With little information being released about the killings, citizens of Anaheim are demanding an investigation. On Monday, Mayor Tait joined their side and pleaded for assistance from officials outside of the city and the state in hopes of getting to the bottom of any misconduct in the force."Like many residents, I am very, very concerned with what occurred in our city on Saturday night," Anaheim Mayor Tom Tait said in a statement. "I am asking the state Attorney General's Office and the federal U.S. Attorney's Office for assistance with a full and independent investigation of the entire situation."On Saturday afternoon, 35-year-old Manuel Diaz was shot twice from behind and killed by police after leading them on a brief foot chase. Cops later confirmed that Mr. Diaz, an alleged gang member from nearby Santa Ana, CA, was unarmed, but the department has failed to follow through with releasing more information. Outrage in Anaheim swelled for hours after the daylight execution of Mr. Diaz, prompting police to shut down some city streets in an attempt to control the crowd. As the protest grew heated, however, police officers fired non-lethal projectiles at crowds of women and children and, in at least one instance, a police department dog was let loose on a small child. Local station KCAL 9 News reported that evening that witnesses said officers were attempting to purchase their cell phone footage of the aftermath as it unfolded, but video has since leaked to the Web, going viral.On Sunday, another alleged gang member, 21-year-old Joel Acevedo, was shot and killed by officers from the Anaheim Police Department. Reuters reports that Mr. Acevedo fired a shot at the cops, prompting them to shoot back. On Facebook, Mr. Acevedo's mother writes that the next evening she was visited by two gang unit officers whom she claims harassed her and her family while they gathered to mourn the loss of her son. The officers say they thought she was having a party."I told them I don't want any further problems with them because I don't want anyone else to get hurt," Mr. Acevedo's mother writes. "I even mentioned how I urged the crowd at the scene to please go inside their homes because I did not want a riot."The grieving mother writes that she considers the unwarranted police presence "harassment and intimidation" and adds, "As for what, I don't know. They already killed my son." Her full name has been withheld to respect her privacy. "Given the fact that this is the eighth officer-involved shooting within one year in the city of Anaheim … the community's going to be very upset," Gustavo Arellano, editor of the alternative newspaper, OC Weekly, tells Democracy Now! "There's a lot of angry residents, and rightfully so."Outside of the city, California has been plagued up and down the coast in recent months by a string of other officer involved deaths. An investigation is currently underway involving the July 2011 killing of Kelly Thomas, an unarmed homeless man caught on film being beaten mercilessly by police in Fullerton, CA. Offering a comment to on the police brutality caught on film across the state in Anaheim, Fullerton City Councilman Travis Kiger tells Reuters that the latest news is "appalling.""It was an assault on a bunch of women and children, that's what it looked like to me," Kiger explains. Tensions remain high in the Bay Area as well three years after officers with the local rapid transit system shot and killed Oscar Grant, an unarmed man who was lying face down on a subway platform when he was executed by Officer Johannes Mehserle.Only days before this weekend's bloodshed in Anaheim, police shot and killed a suspect tied to a stabbing in San Francisco, California. Initial reports suggested that the man was handcuffed before being shot twice by the police.
You can share this story on social media: