'Text against Terror': Did useless text messages cost feds $6 million?
Published time: 13 Oct, 2012 20:16
Edited time: 14 Oct, 2012 00:16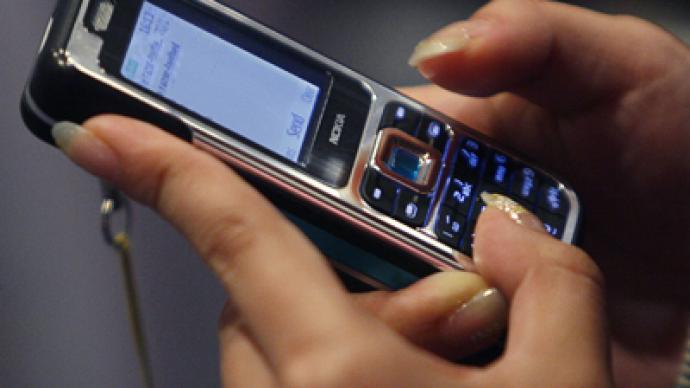 The US government has spent nearly $6 million on a "Text Against Terror" program that allows citizens to express homeland security concerns via text message. But media report that of the 307 messages received, no credible tips were produced.
­The program, launched in June 2011, received the messages at a cost of $5.8 million, reports the Asbury Park Press. This included many from people "testing the system," requesting customer service information, or accidentally texting the NJ Transit Police.

Only 71 text messages "referred to something regarding homeland security," Chief of NJ Transit Police Christopher Trucillo told the APP. And of these, few required followup or referral to the state's Joint Terrorism Task Force.

Causes for concern cited by the NJ Transit Police were unattended packages, suspicious behavior and taking pictures in particular areas. Asked by the Press to give examples of some of the text messages that caused concern, Trucillo refused to elaborate.

When text messages are sent to the Transit Police, they flash on a screen and are immediately responded to.

"Immediately there's a signal within the central communications center that advises the tour commander of an incoming text message," said Capt. Andrew Crowe of the NJ Transit Police. "The tour commander acknowledges each and every text that comes in."

But although the program has so far failed to produce any text messages that prevented a crime, Trucillo continues to believe in its potential.

"We're not doing it to waste valuable tax dollars or that we don't have anything else to do," he said. "We live in a dangerous world and in an area where two significant terrorist events happened [in 1993 and 2011]. We ask people to understand that we do it with their best interests in mind and to make the public aware of counterterrorism efforts, so we can keep mass transit safe."

The $5.8 million US Department of Homeland Security grant was used to pay for the program's advertising – including on-air ads, printed wallet cards, fliers and public transportation ads, and reserving a domain to receive the text messages. The program was also advertised in New York City, which features some of the highest advertising costs in the country.

In total, the NJ Transit aired its ads 4,023 times on radio and television over the course of just twelve days in 2011.

The program is part of a larger, $300-million, nine-year counterterrorism initiative. A Senate report from October 3 concluded that much of these funds were wasted on programs that reported nothing of value or reported crimes unrelated to terrorism. The report quotes DHS officials acknowledging that the information produced by these programs were "predominantly useless." One official called it "a bunch of crap."

New Jersey Transit, which receives a significant portion of this fund, is the nation's largest statewide public transportation system. It provides more than 895,000 weekday trips, 240 bus routes, three light rail lines and 12 commuter rail lines. Servicing more than 223 million passenger trips each year, the $6 million program led to only 307 text messages – none of which were any use to the Department of Homeland Security.