Texas reignites debate over evolution, climate change in science textbooks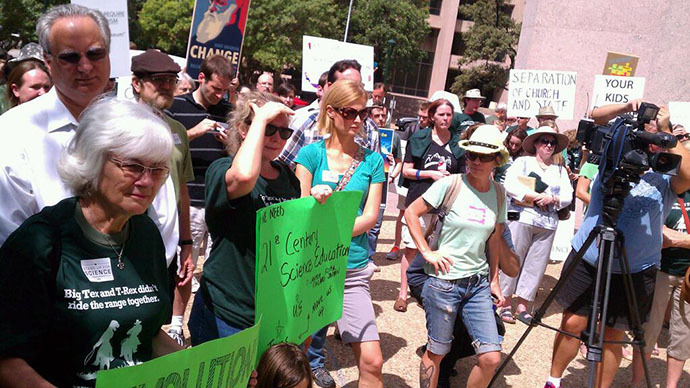 The decade-plus battle in Texas on whether to teach lessons on evolution and climate change flared up again Tuesday, as advocates on both sides pled their case in a debate on proposed high school biology textbooks.
The State Board of Education held a public hearing to consider seven textbooks that have the potential to be used throughout the state through 2022. If the books are printed for Texas, the publishers are likely to mass-produce them, prompting other states purchase the same reading material.

Dozens of science experts, parents, and activists testified before the board at the crowded hearing in Austin for the right to opine on proposed materials in the science books - as well as books on math and technology - for the state's public school students, which total over five million. State law allows school districts to pick textbooks and e-readers from a board-sanctioned selection.
The board, which consists of 10 Republicans and five Democrats, will vote on textbook selections in November.
"I ask you not to let Texas once again become a national embarrassment," said Ron Wetherington, an anthropology professor at Southern Methodist University, according to AP.
Publishers originally offered 15 science textbooks to the state, but volunteer reviewers - some picked by current or former Board members - found that eight of them fell short of state curriculum standards. Textbook companies will be allowed to alter the language of each edition before the board's November vote, as long as the copy is available to peruse online.
The social conservative bloc on the board, weakened in recent years, has fought for textbooks to teach "all sides" of evolution, while leaving room for creationism. They've also pressed for skepticism in teaching climate change.
Former board chair, dentist, and Young Earth Creationist Don McLeroy, who lost a re-election bid in 2010, told his former colleagues to "strike a final blow to the teaching of evolution" and support biblical teachings in whatever decision they make.
"What we see in the world around us supports what the Bible says but what we see in these books supports what the Bible says too," McLeroy said, according to AP.
He went on to say the proposed texts "have no evidence that supports evolution." Though when asked what evolutionary evidence was included, he said: "It's weak. Let the students see how weak it is."
According to the San Antonio Current, McLeroy, who was appointed the board's chair by Gov. Rick Perry in 2007, said he had been waiting four years to speak his mind on textbook standards and was "excited" to finally be given the chance.
Rallies ahead of the hearing included 200 or so activists, many wearing "Stand up For Science" t-shirts and holding signs with messages including "Your kids deserve the truth" and "Public schools, not Sunday schools."

You can share this story on social media: