Texas, North Carolina protesters continue rallies as states move to restrict abortions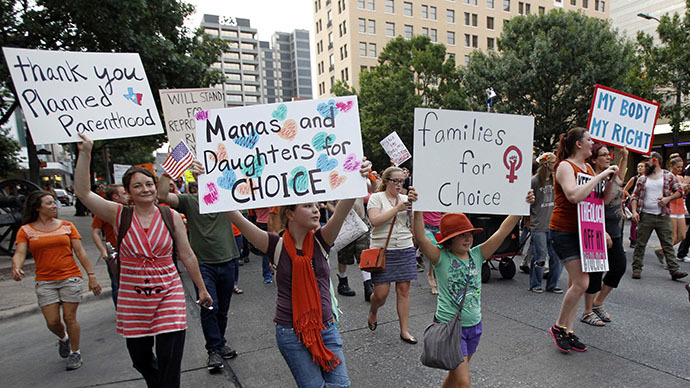 Activists have been protesting bills throughout the United States that could severely limit abortion access. Thousands of demonstrators picketed the Texas Capitol this week, while hundreds have been arrested in North Carolina in recent months.
North Carolina's first Republican-led state government in more than a hundred years has been met with weekly protests opposing the legislature's attempts to limit access to women's health clinics that provide abortions. Dubbed "Moral Monday," the rallies have combined with similar controversy in Texas to raise the national consciousness on a conservative movement that could make it almost impossible for women in the states to terminate a pregnancy safely and legally. 
Last week North Carolina senators passed a bill requiring clinics to conform to the same safety standards as ambulatory survey centers, according to The Nation. The law, passed in the Senate by a 27-14 vote, is scheduled to be voted on in the state House of Representatives on Wednesday. Republican Governor Pat McCrory promised during his campaign that he would not sign into law any restriction on abortion laws but, even if he keeps that pledge, the bill could pass without his signature. 
According to the Raleigh News Observer, there are currently four Planned Parenthood clinics in all of North Carolina. The new safety standards, which Democrats have described as a sham meant only to cut access, could reduce the number to one because of expensive licensing fees and doctor requirements. 
Over 2,000 protesters entered the capitol building in Raleigh Monday, with 64 arrested after they refused to exit the legislative chamber. Among those taken into police custody was Janet Colm, president and CEO of Planned Parenthood of Central North Carolina. 
"I wish I was in a position to be arrested," protester Megan Katsaounis told The Nation. "A lot of us are angry at the direction our state is going and we're feeling very helpless right now. Being hauled away in handcuffs seems like a very tangible way of taking a stand, and I love how volunteers support the arrestees, providing meals for everyone upon release. It's inspiring." 
Some North Carolinians said the proposal could reverse decades of progress in women's rights, while others worried the abortion restrictions would put the state on par with Texas, where lawmakers have continued to push an anti-choice agenda despite internationally publicized protests.
The Texas House prepared to debate Tuesday on a bill that would ban most abortions after 20 weeks of pregnancy and, like North Carolina, enact tougher regulations for clinics. Planned Parenthood announced that the bill would close 36 of 42 the women's health clinics that perform in the largest American state.
Democratic State Senator Wendy Davis previously filibustered for 11 hours to prevent the seemingly inevitable passage of the legislation, but Governor Rick Perry reinvigorated the debate by extending the legislative session. 
"It seems to me that they're trying to pass under cover of darkness legislation that would not otherwise be passed," Suzanne Buckley, executive director of NARAL Pro-Choice North Carolina, told the News Observer of the political gamesmanship. "They're trying to pull a Texas."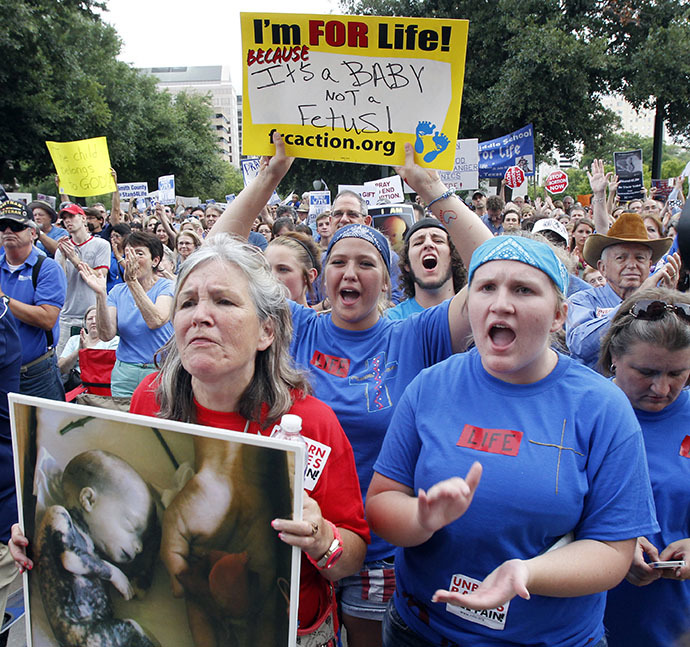 Texas senators attempted to nullify Davis' filibuster by interrupting her with legal stipulations that did not apply to her behavior. In their efforts to shout Davis down, though, the lawmakers were chanted into silence by 2,000 pro-choice activists that filled the state house.  
Presumably to prevent poor public relations a second time, Texas lawmakers have depicted pro-choice activists as rowdy mobs that could be locked up if they express dissent in a similar method to the way they did during Davis' filibuster.
"We have reports and I have my staff taking a look at the video, the Internet video that we keep, we store, on the proceedings that evening and if I find examples of the media waving and trying to inflame the crowd, incite them in the direction of a riot, I'm going to take action against them," Texas Lieutenant Governor David Dewhurst told conservative website HotAir.com. 
"That's inciting a riot, that is wrong," he continued. "And we have a provision in our rules that if people do not deport themselves with decorum, they're not respectful of the legislative process, one of our rules says we can imprison them up to 48 hours. Of course that was out of the question with that many people, but it is... we take a democratic policy seriously."  
Similar threats have come from conservative lawmakers in North Carolina, despite support for the protesters from pro-choice politicians. 
"I believe we have a great police force here," Rep. Larry Hall, from Durham, North Carolina, told the Asheville Citizen-Times. "Now, who do they work for? They work for whoever is in the majority in the House and the Senate, who are responsible for the messages sent to them from the top."
You can share this story on social media: