​Environmental activists face up to ten years in prison for glitter-covered banner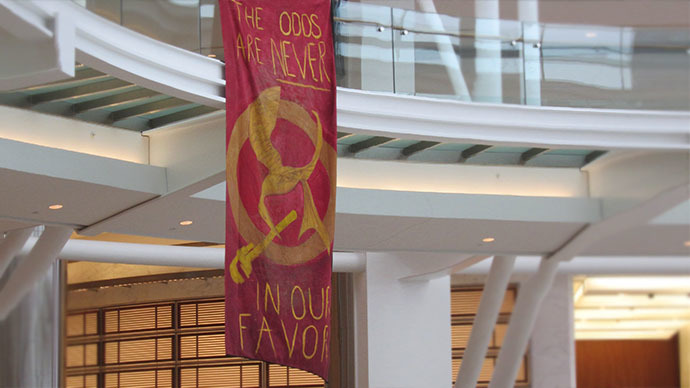 Oklahoma City police charged two activists on Friday for enacting a "terrorism hoax" after the pair unfurled a banner covered in glitter at a fossil-fuel company's headquarters. Authorities took the glitter as evidence of a possible biochemical attack.
About a dozen environmental activists with the Great Plains Tar Sands Resistance group demonstrated Friday at Devon Tower, headquarters of Devon Energy. They were there to protest the company's fracking practices, its role in producing Canadian tar sands and its ties to TransCanada, the energy behemoth constructing the contentious crude-oil Keystone XL pipeline.
Activists blocked the doors to the building as two others, Stefan Warner and Moriah Stephenson, hung two banners from the second floor of Devon Tower's atrium. One banner featured The Hunger Games"mockingjay" symbol and the text, "the odds are never in our favor."
Police arrested two other activists for trespassing while Warner and Stephenson received trumped-up charges of perpetuating a faux bioterrorism assault. In Oklahoma, a conviction for a "terrorist hoax" - defined as "the willful conduct to simulate an act of terrorism" - is punishable with a prison sentence of up to 10 years.
Oklahoma City Police Department spokesman Capt. Dexter Nelson said Devon Tower security worried the "unknown substance" falling from the banners might be a toxin because of "the covert way [the protesters] presented themselves… A lot were dressed as somewhat transient-looking individuals. Some were wearing all black."
"Inside the banners was a lot of black powder substance, later determined to be glitter," he told Mother Jones.
Nelson said responding police officers on the scene called it a "biochemical assault."
"Even the FBI responded," he said.
A spokesman for Devon Energy did not comment to Mother Jones. Devon currently has plans to target Texas' Eagle Ford Shale for gas extraction using hydraulic fracking - the highly controversial process of injecting water, sand, and various chemicals into layers of rock in hopes of releasing oil and gas deep underground.
Attorney for the activists Doug Parr called the seldom-used "terrorism hoax" statute an inappropriate charge for the activists.
"I've represented any number of political activists in Oklahoma for 35 years," Parr said. "This is the first time I am aware of that anyone has been arrested on terrorism-related charges for protest activity."
Parr pointed to TransCanada's outsized influence in pushing law enforcement to use terrorism-related charges against nonviolent activists in the South and Midwest who have slowed progress of the Keystone XL.
In June, activists of the group Bold Nebraska used an open records request to reveal TransCanada PowerPoint presentations aimed at law enforcement officials in which the pipeline company encouraged arresting Keystone XL protesters on terror charges. Part of one presentation suggested police could contact district attorneys for "information regarding the applicability of state or federal anti-terrorism laws prohibiting sabotage or terroristic acts against critical infrastructures" regarding the activities of nonviolent environmental protesters. One presentation dated April 2012 was designed specifically for the FBI.
TransCanada stood behind the presentations, citing disruptive landowner demonstrations along the $5.3-billion pipeline's route in Oklahoma and Texas.
Attorney Parr says while he was on the scene at Devon Tower on Friday, he overheard an officer there, Maj. Steve McCool, request guidance by phone regarding how banner-droppers Warner and Stephenson could be charged under Oklahoma's anti-terrorism statute.
Oklahoma City Police spokesman Nelson said an officer would consult a city or district attorney about such charges. "Who they contacted, I wouldn't know," he said.
TransCanada did not comment, according to Mother Jones.
Warner said "there was no chaos or panic" when he and Stephenson released the banners, which were promptly removed by Devon Tower employees.
"It was anticlimactic and boring until the cops overreacted," Warner said.
Warner said he told police on the scene that the banner contained glitter, yet police responded to him that they still wanted to test the "unknown substance." Though Nelson said the protesters would not talk to police at the scene.
Warner, who has been arrested before for protesting, said the charges show increasingly aggressive intimidation tactics by law enforcement - at the urging of energy companies - against environmental demonstrators.
"It's scary," Warner said. "These companies want to make it seem like they're benevolent neighbors and no harm comes from their activities… To do that, they're trying to criminalize dissent."
TransCanada has begun pumping oil into the southern leg of the Keystone XL pipeline, a company spokesman announced last week. However, it remains to be seen whether President Obama will actually approve the project, which spans from Alberta, Canada, to the Gulf Coast of Texas.
Since the southern section of the pipeline - in Oklahoma and Texas - does not cross international borders, it does not need Obama's approval.
The President is expected to make his decision on Keystone XL's cross-border construction by mid-March.
Canadian Prime Minister Stephen Harper said in September that he "won't take no for an answer" on the pipeline, although current and former Obama administration officials have made comments indicating that Harper may have to prove his assertion.
Great Plains Tar Sands Resistance said the banner used Friday in Oklahoma City featured imagery from the film The Hunger Games "to highlight the parallel between industrial sacrifice zones in real life, and the resource colonies (Districts) that are subjected to state and economic violence in the series."
Protests have occurred on the pipeline's route and elsewhere, as activists and landowners have often teamed up to oppose TransCanada and the collusion of private and public entities to chill dissent.
Another activist present at the Devon demonstration alluded to such steamrolling tactics, especially used in the resource-rich area along Keystone XL's southern leg.
"I'm opposed to the industry's blatant disregard for human wellbeing in the pursuit of profit," said Cory Mathis, according to the Great Plains Tar Sands Resistance website. "These industries poison countless communities, often deceive and coerce folks into signing contracts, and when that doesn't work, they use eminent domain to steal the land. Texas and Oklahoma have long been considered sacrifice zones for the oil and gas industry, and people have for the most part learned to roll over and accept the sicknesses and health issues that come with the temporary and unsustainable boost in employment."
You can share this story on social media: