Keystone conflict: US State Dept launches inquiry into pipeline environmental report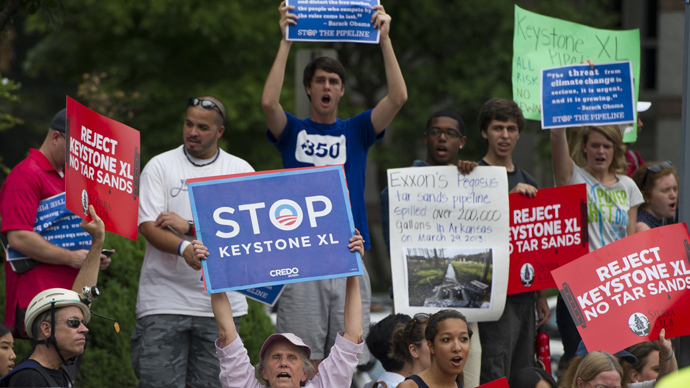 The US State Department has launched an inquiry to review whether the assessment of the Keystone XL pipeline's environmental impact was tainted by Foggy Bottom, the contractor hired to complete the analysis that may have had a conflict of interest.
Multiple environmental groups have come forward to assert that Foggy Bottom, which drafted the environmental analysis for the Keystone pipeline, has financial ties to the American Petroleum Institute. The lobbying group, made up of approximately 400 oil and natural gas companies, have thrown their weight behind the pipeline idea.
Questions have also been raised over the relationship between ERM, a British company hired by the State Department to examine how the pipeline would affect the landscape between Canada and Texas, and TransCanada, the corporation that hopes to begin construction as soon as possible. 
"The Keystone XL environmental review lost all credibility when ERM lied to taxpayers about what it was up to," Tom Steyer, president of NextGen Climate Action told Bloomberg, the first outlet to report the story. "ERM's hubris deprives the State Department and the public of the unbiased information they need. A large group of Americans will support [US Secretary of State] Kerry if he insists on doing the review in a clean, straightforward way – this time, with an honest contractor." 
The State Department's Office of the Inspector general confirmed it has "initiated an inquiry" into whether there was a conflict of interest. An "inquiry" varies from an "investigation" because, where an investigation would seek to uncover criminal activity, an inquiry only seeks to find the existence of a discrepancy, a State Department source told The Hill on Friday. 
The final decision on whether to build the pipeline, which would transport tar sands oil, ultimately rests with US President Barack Obama, who has given few hints over where his intentions lie. Some lawmakers have called for the Keystone line to be built because of the number of jobs it would supply, while Obama warned he would oppose construction if it would "significantly exacerbate" carbon pollution.
You can share this story on social media: