Oil begins to flow through southern portion of Keystone XL pipeline
Published time: 11 Dec, 2013 03:31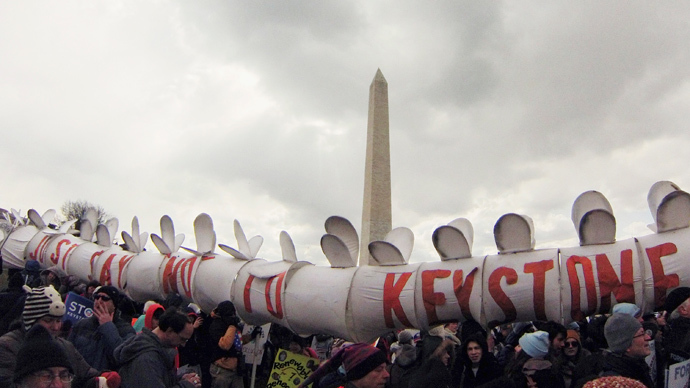 TransCanada has begun pumping oil into the southern leg of the Keystone XL pipeline, a company spokesman announced on Tuesday. However, it remains to be seen whether President Obama will actually approve the project.
The corporation began moving oil into the stretch of pipeline that runs from Oklahoma to the Texas Gulf Coast early on Saturday.
"TransCanada is pleased to confirm that at approximately 10:04 am Central Time on Saturday, December 7, 2013, the company began to inject oil in the Gulf Coast Project pipeline as it moves closer to the start of commercial service," company spokesman Shawn Howard told the Houston Chronicle.
The announcement was an indication that the $2.3 billion, 485-mile pipeline is another step closer to completion. The corporation previously said in a letter to regulators that the pipeline would begin service on January 3. It later retracted that claim, stating that it would not be in service before mid-January.
The completed section of the pipeline will soon be filled with three million gallons of oil, the company said.
The southern leg of the pipeline does not cross an international border, meaning TransCanada is not required to obtain presidential approval. However, because the proposed northern leg would cross from Canada into the US, President Obama must authorize its construction. Whether the White House will allow the project to move forward has become a major point of contention between environmental groups and the administration.
Canadian Prime Minister Stephen Harper said in September that he "won't take no for an answer" on the pipeline, although current and former Obama administration officials have made comments indicating that Harper may have to prove his assertion.
Carol Browner served as the head of the Environmental Protection Agency during under former President Clinton and was in charge of the Office of Energy and Climate Change policy during
the first two years of Obama's presidency. Speaking on a panel in October, Brown predicted "there will be some twists and turns" in the debate over the Keystone XL pipeline but "at the end of the day [Obama] is going to say no."
Republicans in favor of the pipeline spoke out Tuesday against Obama's decision to appoint John Podesta, the president and CEO of the Center for American Progress Action Fund think-tank, to his inner circle of advisors. Podesta has spoken out against the pipeline in the past.
"It creates a concern," Senator John Hoeven (R-ND), one of the pipeline's most vocal proponents, told the National Journal. "The White house has delayed this for more than five years. It looks to me if they can find a way to turn it down, that is what they are going to do, which is why I am going to continue to do everything I can to put pressure on them to get them to approve it."
The president is expected to make his decision on Keystone XL's cross-border construction by mid-March.