Illinois judge refuses to overturn super-broad definition of terrorism
Published time: 28 Mar, 2013 20:12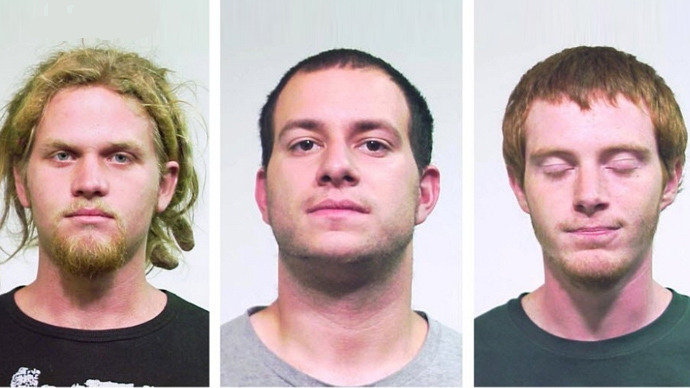 A federal judge in Illinois has refused to drop charges of terrorism against three men accused of plotting a series of attacks last year in Chicago.
Brian Church, Jared Chase and Brent Betterly have been in police custody since May 2012 when authorities arrested the men and charged them each with several counts relating to an alleged plot involving, according to investigators, conspiracy to commit terrorism. The defendants were also charged each with possession of an explosive or incendiary device and providing material support for supposedly conspiring to make homemade bombs, or Molotov cocktails, with which the police say they planned to target the home of Chicago Mayor Rahm Emmanuel and the local campaign office for US President Barack Obama during a major NATO summit in the Windy City last year.
Friends of the accused say the so-called explosives were actually home brewing equipment, but having that charge dropped from the indictment would do nowhere near as much to trim time off from a possible sentence as appealing the terrorism count. On Wednesday, however, Judge Thaddeus Wilson insisted on keeping that charge intact.
Attorneys for the men asked the court to drop charges under a little-known state terrorism statute that has only been used once in the decade since it was enacted in the wake of the September 11 attacks because they argued that vague verbiage made First Amendment-granted rights illegal.
The law in question, argued the defense lawyers, defines terrorism as "intent to intimidate or coerce a significant portion of a civilian population."
"The vague nature of the terms 'coerce,' 'intimidate,' and 'significant portion of the civilian population' allows for the arbitrary and discriminatory enforcement of the law," reads the motion they filed.
"The state improperly exploited these unconstitutionally vague terms to bring these highly inflammatory 'terrorism' charges in order to prejudice the defendants, discredit the anti-NATO demonstrators, and justify the enormous costs of the security tactics of the Chicago police during the NATO summit," it continued.
Church's attorney, Michael Deutsch of the People's Law Office, told the Chicago Tribune that the statute was unconstitutional because it allows prosecutors to "arbitrarily pick and choose" who could be targeted with so-called terrorism depending on where they gather or with whom.
Thomas Durkin, who lists Chase as a client, had similar words for the website Chicagoist about how alarming of a precedent the terrorism charges are:
"It's what a lot of scholars and people who pay attention to national security call the 'new normal.' That is, because the terrorism statute is in play, you end up having police officers sitting in bullet proof vests in the court room. Over time, you've got what legal scholars call 'seepage,' in which these 'new normals' start seeping into the court room incrementally," Durkin said.
According to DNAinfo court reporter Erin Meyer, attorneys for the men say the court pulled the terrorism charges "out of their bag of tricks strictly for publicity purposes."