NATO protesters indicted on terror charges with murky evidence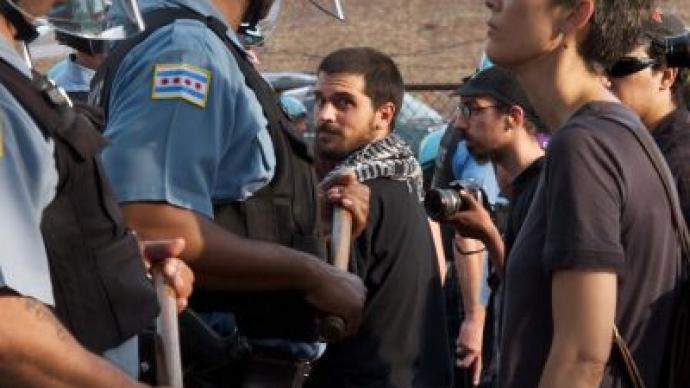 A grand jury has indicted three men arrested in the run-up to the NATO Summit in Chicago on terrorism-related charges. The men now face decades in prison for purportedly planning to attack President Barack Obama's campaign HQ with Molotov cocktails.
Brian Church, Jared Chase and Brent Vincent Betterly were arrested last month in an undercover operation under Illinois' anti-terrorism statues. They were detained on charges that included conspiracy to commit terrorism and material support for terrorism.The evidence to support the allegations appears to be somewhat murky. Not only did their arrest reek of entrapment, as their activist groups had been infiltrated by police officers, but the only evidence used to back up the charges was that they allegedly possessed four makeshift firebombs, Michael Deutsch, one of their lawyers, noted. These homemade Molotov cocktails were supposedly made by pouring gasoline into beer bottles and stuffing the neck with scraps of cloth to serve as fuses. "I think this is all just a continuing strategy of sensationalizing the case to make it look more dangerous than it is," Deutsch stressed. The men's defense attorneys had asked the prosecution to show them the indictment last week, but their request was denied. The defense argued that the prosecution gave little information on the charges and evidence that was to be presented, but prosecutors retaliated by saying they were not legally obliged to provide such information before the scheduled arraignment on July 2. However, defense attorneys found a copy of the indictment at the Cook County Court clerk's office, defense lawyer Sarah Gelsomino noted. That copy contained no details about the evidence. "This is highly unusual behavior that, at every stage, prosecutors have refused to talk to us," she remarked. "It is symbolic that we couldn't even get the indictment directly from prosecutors themselves."Defense attorneys said Church, Chase and Betterly intend to enter not guilty pleas at the July 2 arraignment.The men were originally arrested along with eight other individuals who were subsequently freed. In a separate case also related to the NATO summit, two other men were arrested for allegedly trying to acquire explosives to blow up a train overpass.
You can share this story on social media: