Teenagers whose parents deploy in war zones have higher suicide risk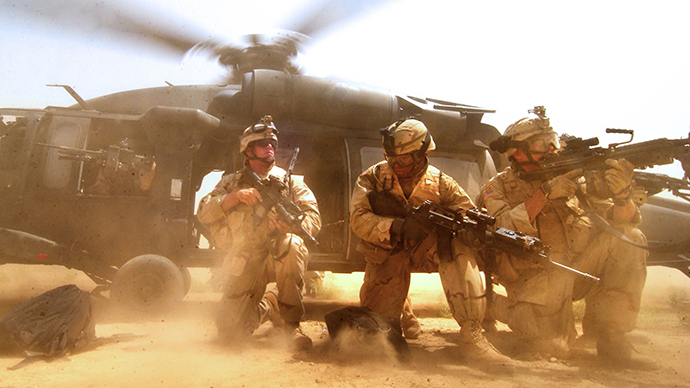 Teenagers with family in the military are more likely to consider committing suicide if their relatives are deployed overseas multiple times, according to a new study published on Monday.
Researchers at the University of Southern California surveyed 14,299 students, including 1,900 from military families, and found that a link exists between mental health issues like depression, thoughts of suicide, and the multiple deployments of relatives.
While past studies have focused on military families whose children are already receiving treatment for mental health issues, the new data collected by the University of Southern California was able to compare the feelings of children in military families with those of their peers.
The study asked ninth and 11th graders if they had seriously considered suicide over the course of the past year. About 18 percent of students with relatives who'd never been deployed said yes. Among those whose relatives were deployed once, the number was 23 percent, and multiple deployments boosted the percentage to 25.
According to the Guardian, past studies have found suicidal thoughts prevalent in about 15 percent of teenagers overall.
An additional survey that has yet to be published showcased further worrisome results, according to the Los Angeles Times. Twenty-one percent of military children reported creating a suicide plan over the last year, with almost 18 percent attempting to carry it out. Only six percent said they received treatment after a suicide attempt.
Julie Cederbaum, an assistant professor at the school of social work at the University of Southern California, told the Guardian that the most important finding was the link between deployment and mental health issues.
"It is not just military kids – it is military kids who have experienced deployment," she told the publication. "This experience of repeated deployment seems to be the trigger. We know that's been more common during recent wars. We know there are stressors when a parent leaves, there can be loss of communication, then there's a time lapse of nine months to a year. By no means all the parents who return from war have problems. But it's an adjustment."
In addition to the findings on suicide, the survey results showed that over the past year, 29 percent of teens (including non-military families) have experienced extended feelings of sadness or hopelessness, and 22 percent suffered from depression symptoms in the previous month.
For those students whose relatives were deployed once, extended feelings of sadness went up to 34 percent and symptoms of depression increased to 24 percent. Multiple deployments increased these numbers further, to 38 percent and 28 percent, respectively.

This USC study is just the latest to reveal the toll that international military conflicts have had on American families over the last decade. A study by the University of Iowa published in August also found that children in military families face an increased risk of alcohol and drug use.
You can share this story on social media: