Air Force, after spending $500 million, sending fleet directly into storage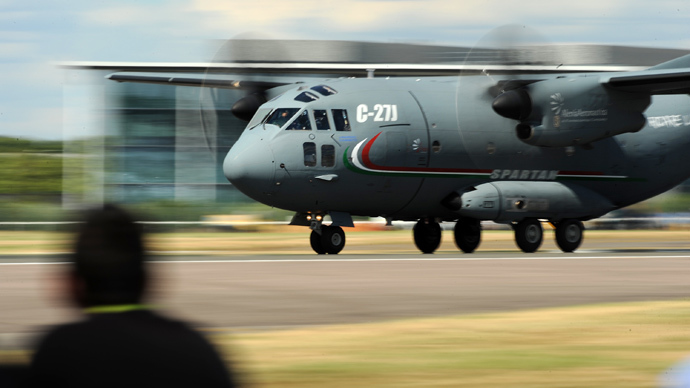 The US Air Force has sent a dozen brand new cargo planes that cost American taxpayers hundreds of millions of dollars directly from the assembly line into a storage facility in the Arizona desert, according to a new report.
At least twelve C-27J Spartans, a medium-sized military transport plane, have been removed from military service and sent to Davis-Monthan Air Force Base in Tucson, Arizona. The base was given the nickname "boneyard" after years of inactivity. Five more planes are expected to be built and sent to the base by 2014, according to an investigative report by Ohio's Dayton Daily News.

"They are too near completion for a termination to be cost effective," said Air Force spokesman Darryl Mayer.

The Air Force has spent $567 million on 21 Spartans since 2007. While 16 of that 21 have been built, 12 of them now sit at Davis-Monthan alongside thousands of NASA and military flight vehicles exceeding $35 billion in value.

"This aerospace fleet provides a unique savings account from which military units throughout the world may withdraw parts and aircraft," stated Davis-Monthan's website. "The government earns additional income by selling aircraft to our allies."

The C-27J gained favor in the military for its ability to land on and depart from rough landing strips. The aircraft, which began production in 1997, has also been ordered by the militaries of Australia, Greece, Mexico, and Romania, among others. But the nagging threat of sequestration coupled with the government shutdown has convinced the Pentagon that Spartans are an unaffordable luxury.

"When they start discarding these programs, it's wasteful," Ethan Rosenkranz, a national security analyst at the Project on Government Oversight, told the Dayton Daily News.

Ohio lawmakers were among the most passionate defenders of the C-27J, in part because of the 800 workers at Mansfield Air National Guard Base who would have been employed to build the transport planes. Senator Sherrod Brown of Ohio, along with six other Democratic senators, wrote a letter to the Pentagon in 2011 asking for 42 aircraft, warning that choosing to do otherwise would "weaken our national and homeland defense."

Mike O'Hanlon of the Brookings Institute said the situation seemed to be the result of narrow-mindedness.

"It's too bad, and a waste," he said. "I'm not sure the program was ever a white elephant, and yet given the budget cuts I'm not sure it should be saved now."

General Norton Schwartz, a former Air Force Chief of Staff, told Congress last year that the military was seeking to cut its C-27J investments in anticipation of federal budget constraints. The C-130, he said, can fulfill all of the Air Force's current needs and costs $213 million to fly and maintain over 25 years. The C-27J costs an estimated $308 million per aircraft, according to the Daily News.

"In this fiscal environment it certainly caught our attention," Schwartz said.

Davis-Monthan Air Force Base itself has become another casualty of the government budget crisis. While US Defense Secretary Chuck Hagel ordered hundreds of civilian employees back to work at bases across Arizona, the unpaid time off has certainly impacted morale.

"There were a few employees who were exempt from the furlough, so the ones that were furloughed, there was a lot of animosity toward the ones that weren't," Harley Hembd, president of the American Federation of Government Employees, told KJZZ radio in Arizona. "And, now some of the employees that are coming back, the others aren't happy because they're thinking somebody got paid for time off."

Materiel Command spokesman Ron Fry categorically denied the base in question is a bone yard, saying "they have a very robust mission to turn aircraft and equipment back into service."