Handcuffed NC teen ends up shot dead in backseat of cop car, police deny involvement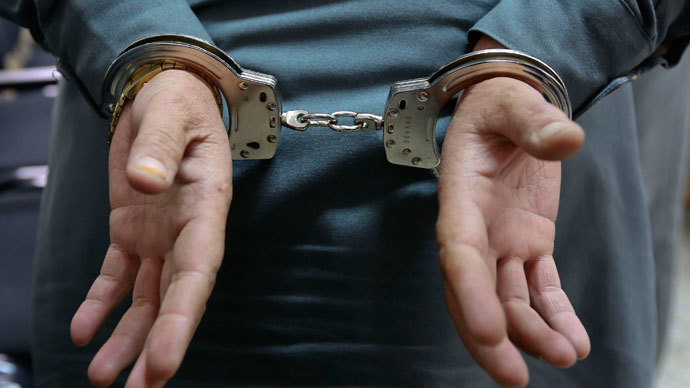 A handcuffed 17-year-old North Carolina boy died of gunshot wounds in a Durham Police Department patrol car Tuesday morning, according to a 911 recording made public Wednesday.
Jesus Huerta was being transported to police headquarters on a trespassing charge by officer Samuel A.M. Duncan when, in the department's parking lot, Duncan heard the shot from the backseat and jumped out of the car, leaving it to roll into a van with Huerta still inside, Durham police said.

In the recording of the 911 call, a police officer radioed emergency dispatchers just before 3 am EST Tuesday morning to report "shots fired" in the parking lot of the station. The dispatcher asked the calling officer if he was hurt, according to the recording. "I don't believe so," the officer said in response.
The officer is heard asking for medical assistance for a "gunshot wound. Approximately 18-year-old male, not breathing."
Ahead of the released recording, later on the morning of Huerta's death, Durham Police Chief Jose Lopez said his department didn't know how the young man died, but said "based on the preliminary investigation, it does not appear that any Durham police officer fired a weapon during this incident."
The Durham Police Department would not comment Wednesday on the 911 recording or answer further questions, citing an ongoing investigation.
Huerta's family was notified of Jesus' death early Tuesday morning, but they were told they will not yet be able to view his body, taken to the state medical examiner's office. A spokesperson for the Department of Health and Human Services told WRAL there is no viewing room.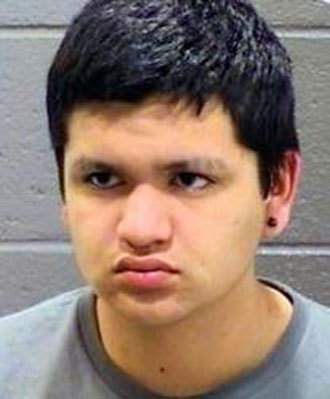 "(My mother) wants to see my brother, even through a glass window," said Evelin Huerta, Jesus' sister. "We don't have any answers. We want to make sure it's him because we still have that thought, the possibility that it's not him, that it was a mistake."
Huerta's older siblings, Evelin and Raziel Huerta, said Wednesday Durham police had not directly told the family how Jesus died, though they question any insinuation that he killed himself.
"Wasn't he handcuffed? Did they search him?" Raziel Huerta said, according to the News & Observer. "He didn't have a gun. If there was a gun, I don't know where it came from. Was it on the seat?"
The two older siblings, speaking to reporters in front of their family's apartment in Durham Wednesday afternoon, said their mother, Sylvia Fernandez, wanted to call the police because Jesus had left against her wishes.
Jesus had been playing video games in the apartment living room before leaving, Raziel said. He then wanted to go out, but his mother said it was too late. The siblings said she was worried for his safety and wanted police to find him. She doesn't speak English, so she asked Evelin to call the police.
"All of a sudden, he opened the door and left," Raziel, 27, said. "My mom felt scared and called the police."
A recording of the 911 call the daughter made for her mother indicates Jesus left the house because his mother had caught him using drugs. The unnamed caller in the recording also said they were worried because Jesus had once "tried to take his life."
"One time, he wanted to jump from the window" because "he thinks his mother does not love him," the caller said to the dispatcher. Though the family said Wednesday he had never tried to kill himself, according to WRAL.
Raziel said his brother once tried to jump from a first-story window at their apartment, but because he wanted to get out of the house, not as a suicide attempt.
"He was hanging out, trying to be cool. He had, like, a little swagger," Raziel Huerta said. "He was not depressed."
The family told WRAL police appeared at the apartment about ten minutes after the call to police, then another officer radioed saying Jesus was picked up two blocks away from his home. The Huertas said they don't yet have more information on the trespassing charge Jesus faced.
"Where was he trespassing?" Raziel asked. "He was walking down the street. It's a free country."
The siblings said their mother called police to protect Jesus.
"She's saying next time she is going to doubt picking up the phone and calling a police man," Evelin Huerta said.
Raziel Huerta said his brother - a student at Riverside High School, where he was known as "Chewy" - was a normal teen who liked video games and expressed desire to be a firefighter or an attorney.
Duncan, who joined the department in 2012, has been placed on administrative leave with pay during the investigation by the State Bureau of Investigation, Lopez said. He said the Durham Police Department's homicide unit and its professional standards division are also looking into the case.
You can share this story on social media: