'Corporate rights': Judge blocks popular move to end tax breaks for big energy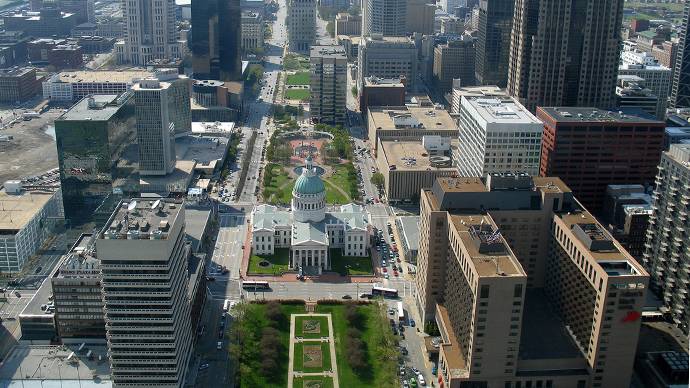 Citing corporate rights under the Citizens United Supreme Court decision, a St. Louis, Missouri circuit court judge has temporarily blocked a citizen-led municipal ballot initiative that could end city tax breaks to "unsustainable" fossil fuel companies.
Judge Robert Dierker granted this week a temporary restraining order that, for now, puts a citywide ballot initiative on hold. The measure "would end public financial incentives, such as tax abatements, to fossil fuel mining companies and those doing $1 million of business with them per year," according to Missourians Organizing for Reform and Empowerment (MORE).
MORE has led the effort to put the proposed charter amendment on St. Louis' April 8 ballot. Volunteers with the Take Back St. Louis coalition gathered over 22,000 signatures last year in an effort to put the proposal in front of St. Louis voters. In addition to curbing tax breaks, the measure would require the city to work on a sustainable energy plan that makes way for renewable energy efforts on vacant city-owned property.
Dierker said the ballot initiative was "facially unconstitutional" given it may collide with state law and because targeting unsustainable-energy companies is a "patent denial of equal protection to those entities."
Citing the controversial Citizens United Supreme Court decision, which further entrenched corporate personhood rights in the US, he said "business entities (which, after all, are a species of associations of citizens coming together in the exercise of economic freedom) are entitled to constitutional protection as citizens and may not arbitrarily be denied basic legal rights."
Dierker's ruling sets the scene for a March 31 hearing on a possible permanent injunction against the sustainable energy proposal.
The judge sided with lawyers associated with St. Louis-based Peabody Energy, the world's largest private coal company. It was only two weeks ago that Jane Dueker - a former Peabody lobbyist, though she now works for a law firm that lobbies for the energy giant - filed the motion for the restraining order. Echoing opponents of the ballot measure, the lawsuit says the initiative would negatively impact pertinent companies, possibly causing some to leave the city, one that has seen tough economic conditions for decades.
The St. Louis Post Dispatch reported that Peabody Energy is not party to the suit, but calls the ballot measure a "poorly drafted and misguided proposal."
According to MORE, Peabody received tax breaks of US$61 million "of purchases and office renovations from the City in 2010." MORE says the tax breaks would help the struggling community more efficiently if given to small businesses and to help revive decaying parts of St. Louis.
"We fundamentally disagree with this temporary ruling, and quoting Citizens United is an insult to home rule powers and our local democracy," said Reginald Rounds, of the Take Back St. Louis campaign. "Saying that Peabody Energy has equal rights with St. Louis public school students who lack supplies due to corporate tax breaks is what is a violation of rights in our city."
MORE noted that two officials from the office of St. Louis Mayor Francis Slay testified at the most recent hearing in support of the lawsuit, indicating the city government's loyalties.
You can share this story on social media: