Family struggles to find place to bury Tamerlan Tsarnaev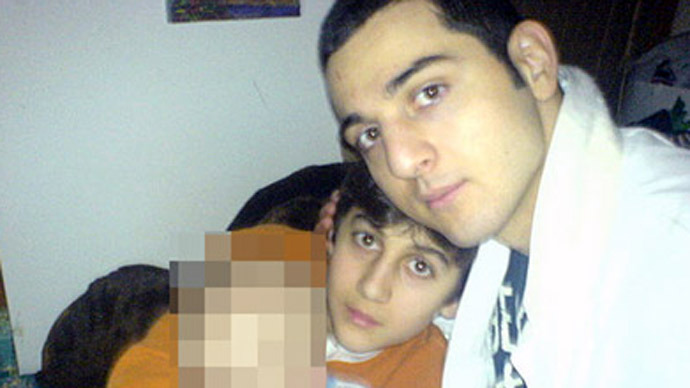 US cemeteries are rejecting the body of Boston bombing suspect Tamerlan Tsarnaev, citing protests and the prospect of unwanted media attention as the cause.
Ruslan Tsarni, the uncle of the Boston Marathon bombing suspects, traveled north from his home in Maryland in order to lay the body of his deceased nephew to rest. Tsarni and three of his friends washed and shrouded Tsarnaev's body in line with Muslim tradition, and planned to bury it in Massachusetts.
But "no one wants to associate their names with such evil events", Tsarni told AP, while describing his struggle in finding a burial plot for his nephew.
"Rest in hell! Get that trash out of the city!" passer-byes yelled Monday morning, as they walked past the funeral home where Tsarnaev's body is held.
Peter Stefan, the owner of the Graham Putnam & Mahoney Funeral Parlors, is holding onto the body and is trying to help the family, but says he has been unable to find any cemeteries that would sell a plot to them. He said he will now ask cemeteries with areas designated for Muslims, as well as the city of Cambridge. 
But at this point, Tsarni "just wants a burial. It doesn't have to be a Muslim grave. That's how far along we are," he told the Boston Herald.
Stefan's involvement has triggered protests outside of his Worcester funeral home. People have called him "un-American" for handling the burial, which the funeral director says he has a professional obligation to do.
"We take an oath to do this. Can I pick and choose? No. Can I separate the sins from the sinners? No," he told reporters. "We are burying a dead body. That's what we do."
Protesters held American flags and signs and chanted "USA!" outside of the funeral home this past weekend. 
"Bury this terrorist on US soil and we will unbury him," read a sign held by one of the protesters that gathered in Worcestor on Sunday.
"Throw him off a boat like Osama bin Laden!" a man yelled while protesting on Saturday.
"Do not bury him on US soil," read another sign.
Although Stefan said he would talk to Cambridge city officials about burying Tsarnaev in a city-owned cemetery, he is unlikely to strike a deal. Cambridge City Manager Robert Healy on Sunday warned Tsarnaev's family not to request a burial permit in the city, since Cambridge would be "adversely impacted by the turmoil, protests and widespread media presence at such an Interment."
"The difficult and stressful efforts of the citizens of the City of Cambridge to return to a peaceful life would be adversely impacted by the turmoil, protests, and wide spread media presence at such an interment," Healy said. He explained that the families of those who are buried in the cemetery deserve peace and quiet. If Tsarnaev were to be buried in Cambridge, it would attract media attention and protests that would rob the cemetery of its tranquility. 
Appearing on "Good Morning America" on Saturday, Stefan said he looked for plots as far as New Jersey and Connecticut, but had no luck out-of-state.
Tsarni told reporters that he understands why cemeteries refuse to accept his nephew's body, but that he is "dealing with logistics" in trying to put Tsarnaev's body to rest.
"A dead person must be buried," he said.
Tsarni has publicly denounced the actions of his nephews and said they brought shame to the family and the Chechen people. He stepped up to bury the young man's body since no one else would do it. On Sunday, he emerged wearily from the funeral home after washing and wrapping Tsarnaev's body, as called for by Muslim tradition.
But with no luck finding a plot for Tsarnaev in the US, the body might be sent to Russia. Zubeidat Tsarnaeva, the mother of the bombing suspects, on Sunday called Stefan "in tears", asking for the body to be sent "home" to Chechnya, the Boston Herald reports.
"I have refrigeration. I can hold him for a long time," Stefan said. "It'd be a great idea if we could send him to Russia, but I would have to have [permission] from the State Department. This is a national security situation. We can't just send a body over like we're dumping it."
Stefan said he would even pay for the body's transportation himself, since "it's only a couple thousand dollars" and that it needs to be buried. Tsarnaev's body has been cleansed per Muslim tradition by Tsarnaev's uncle, and is wrapped in shrouds and ready to be shipped or interred.

"My question is, is someone going to do something once I get him there?" he said. "No [going] back and forth and [holding] him there because he's a terrorist or whatever. That day, have a service, a burial and end it. This is becoming an international political football."
Massachussetts governor Deval Patrick said on Monday morning the state does not plan to intervene in the matter
"This isn't a state or a federal issue; it's the family's issue," the governor told reporters in New Bedford. "And the family has some options. I assume they will make a decision soon. I hope they do. I think everybody is feeling upset about what happened. But we showed the world in the immediate aftermath of the attacks what a civilization looks like, and I'm proud of what we showed and I think we continue to do that by stepping back and let the family make their decisions," he added.
You can share this story on social media: