​Wearable surveillance camera detection 'armor' makes its debut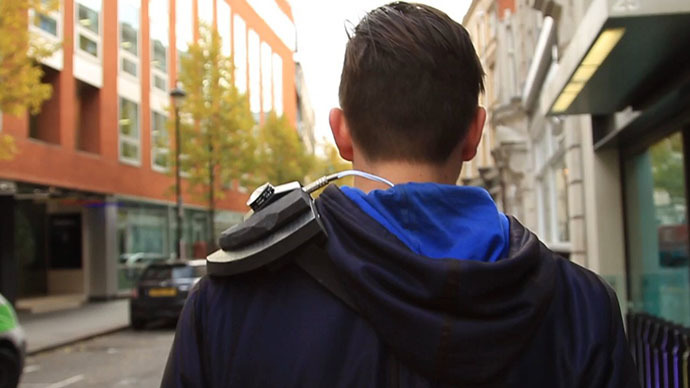 As surveillance cameras are pushed closer and closer to omnipresence in society, one London artist has added to the growing lineup of tools available to alert and protect those wary of the relentless monitoring.
James Bridle has created a wearable device he's dubbed the 'surveillance spaulder' -- inspired by the spaulder, a medieval plate armor used to protect "the wearer from unexpected and unseen blows from above."
The surveillance spaulder alerts the wearer to surveillance camera presence by detecting the infrared lighting they commonly use. Upon discovering a camera in its vicinity, the device sends an electric signal to two "transcutaneous electrical nerve stimulation" pads that cause the wearer of the device to twitch. Similar to the spaulder of old, the device warns the wearer of unwanted assaults from above.
Bridle says his apparatus provides "a tap on the shoulder every time one comes under the gaze of power," though it does not block cameras or algorithms as other designers and artists have achieved in their own conceptions of surveillance defense.
Bridle's invention is among a growing number of surveillance detecting devices that straddle the line between functional technology and political statement.
In October, Dutch artist Simone C. Niquille unveiled 'REALFACE Glamoflage' t-shirts -- garments covered in jagged, bizarre designs that she claims confuse facial recognition algorithms. Niquille says the shirts were inspired in part by the 'ugly t-shirt' from author William Gibson's book 'Zero History' which could give cover from CCTV surveillance. The design, which she describes as "facial recognition dazzle," also doubled as her master's thesis project.
American designer Adam Harvey created make-up, hair styles, and shawls known as 'CV Dazzle,' which he calls "camouflage from computer vision (CV). It is a form of expressive interference that combines makeup and hair styling (or other modifications) with face-detection thwarting designs."
Harvey, a trained mechanical engineer, also made 'Stealth Wear,' clothing that includes an "anti-drone hoodie." It utilizes metalized material which counters the thermal imaging used by unmanned aerial vehicles to spot targets on the ground. The line also includes a cell phone pocket made of "signal attenuating fabric" that blocks phone signals, disallowing any tracking or interception by devices like the FBI-used 'Stingray' tool. And the 'XX-Shirt' uses material that aims to "protect your heart from X-ray radiation," Harvey says.
In 2012, German artist Martin Backes introduced a pixelated anti-facial recognition balaclava called 'Pixelhead.'
The projects come at a time of rapidly increasing facial-recognition and surveillance technology in both the private and public spheres. The United States intelligence community's research arm is preparing to launch a program that will thoroughly expand the capabilities of biometric facial recognition software in order to establish an individual's identity.
The Janus program of the Intelligence Advanced Research Projects Agency (IARPA) will begin in April 2014 in an effort to "radically expand the range of conditions under which automated face recognition can establish identity," according to documents released by the agency last month.
And Trapwire, a spy system uncovered by RT last year while analyzing hacked emails obtained from the Stratfor private intelligence firm, has been sold to major US cities, allowing customers to scan the faces of people caught on surveillance cameras in only seconds. The Electronic Privacy Information Center describes TrapWire as "a technology solution predicated upon behavior patterns in red zones to identify surveillance. It helps you connect the dots over time and distance."
Intelligence contractor Abraxas developed TrapWire to, every few seconds, collect data at surveillance points in major cities and landmarks across the United States. The data is recorded digitally on the spot, then encrypted and instantaneously delivered to a fortified central database center at an undisclosed location to be aggregated with other intelligence.
You can share this story on social media: