V.Surkov: "We do not intend to lecture one another"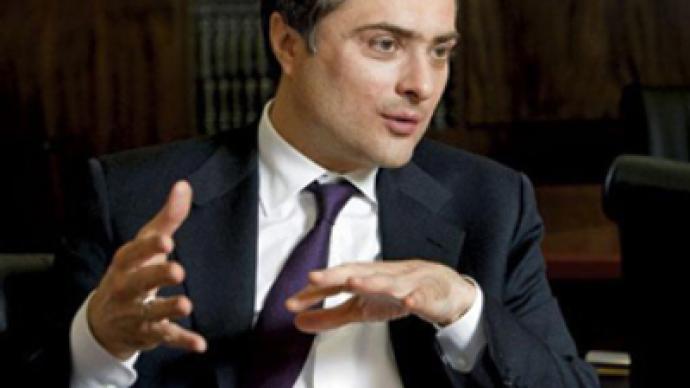 A Russian-US council on civil society that was created due to the initiative of the presidents of both countries will meet in the United States on January 27.
It will tackle issues left over from the Cold War, such as corruption, children's rights, and stereotypes about Russia on the other side of the Atlantic.
The council will be co-chaired by Russian Deputy Presidential Chief of Staff Vladislav Surkov, who was interviewed by the Izvestia daily, ahead of his trip.
Q. Lately, the Russian-US presidential commission council, which you are co-chairing, is being talked about quite a lot. Could you outline the plans of the working group for the nearest future?
Vladislav Surkov: The working group will meet for the first time in Washington, DC, on January 27. A substantial amount of preparation has been done ahead of it, with both sides coordinating the objectives and directives of our sphere of action.
The United States proposed to include only state officials into the council. We did not object to the idea. On top of that, we proposed the inclusion of Russia's Human Rights Commissioner Vladimir Lukin; chair of the Civil Society Institution and Human Rights Council of the Russian Federation Ella Pamfilova; Presidential Ombudsman for Children's Rights Pavel Astakhov; and several other persons who are not quite state officials. But since no equivalent posts exist in the US government, they were included in the delegation.
Q. Did you agree on the council's agenda?
VS: The Russian side initiated the following topics: fighting corruption, migration – the issue of illegal immigration first of all – prisoners' rights, and a crackdown on crimes against children.
The US side has offered to discuss negative myths and stereotypes, which still exist in relations between our countries. We tried to avoid, where possible, issues which we will most likely not be able to reach an agreement on. We will approach them gradually, as our mutual understanding deepens.
Q. And all of these five issues will be discussed during the visit to the United States?
VS: In Washington we will cover the issues fighting corruption, crimes against children and negative stereotypes only.
Q. What motivated the Russian side to choose its priorities for the discussion?
VS: All the issues approved are supported by explicit statistics, assessment criterions and, most importantly, all are significant for both Russia and the US We have plenty to talk about.
The problem of corruption, for example. Of course, in our respective countries, the problem has different roots. Nevertheless, major corruption scandals happen both in Russia and in the United States.
Another issue is immigration. Russia and the US are world leaders when it comes to the numbers of immigrants, both legal and illegal. Thus, the issue of migration is vital to both countries. The same could be said about the third matter of concern – the issue of prisoner conditions. Again, our countries continue to head the grim list of the countries with the largest number of the incarcerated.
Finally – a highly important problem – crimes against children. During the past several years the number of crimes committed against underage children in Russia has increased tenfold. The United States has extensive experience in combating this evil. That experience will be highly valuable for us, since Russia has a lot to accomplish in that respect.
Q: Will the Russian side pose any questions regarding the deaths of Russian children adopted by American parents?
VS: I would like to emphasize that we will not lecture each other on the issues covered during the meeting. This is not the point of the working group. We know that the United States is concerned over that issue and is working on solving the problem. As far as problems with adopted children are concerned – we, ourselves, have plenty of those in Russia.
Q: Some Russian human rights activists and several US congressmen have subjected you to criticism. Do you have anything to say on that matter?
VS: We hit some bumps during the preparations for the council. We are trading information with our American colleagues on those issues. Overall the process is flowing smoothly, and we have reached certain success already.
As far as my being scrutinized by some Russian human rights groups, as well as American congressmen, I believe everyone is entitled to their own opinion. I think it is a small part of a larger mass of misconceptions, and those very negative stereotypes we will be discussing. I hope we will be able to dispel them during the course of our cooperation.
Q: Will there be a need to refine the activity of the council in the future?
VS: We would really like it if meetings of the working group took place not only in Russian and US capitals, but in other places, as well. We are going to hold meetings in various states and Russian regions. We must not turn into a commission which sits in their cabinets in Moscow and Washington discussing something in abstract terms.
Q: Various mass media report that the US will pose a question on equal cooperation of Russian and US civil organizations. Is there some sort of inequality between these organizations right now, any limitations in their cooperation?
VS: We do not see any inequality between Russian and American organizations, and we think there are no hurdles for a dialogue between them at the moment. Especially considering the fact that many Russian non-commercial organizations subside on grants they receive from the American government.
As far as your question goes, I will strictly stick to the agenda we agreed on, since I'm entitled to holding talks only within its framework. I would like to emphasize once again – these issues will be discussed only within the context of institutions of civil society.
The American side has demonstrated a very civil and good-natured approach to our cooperation. On our part, we will do everything in our power to make the working group a success.
Read also – Kremlin's vision of modernizing Russia
You can share this story on social media: