2-year-old toddler in coma after step-father's parenting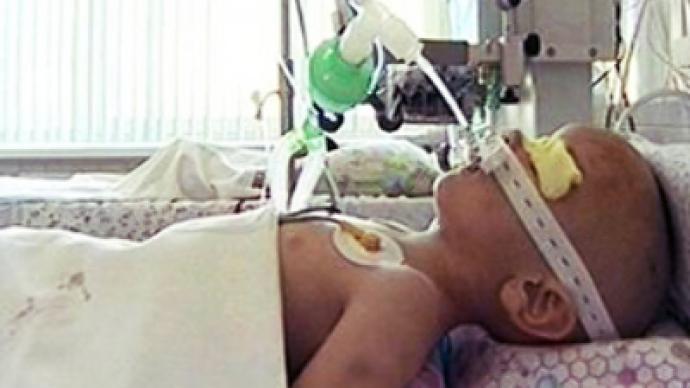 The unbearable cruelty of Nikita Chemezov's parents has placed the boy on the edge, struggling between life and death. The methods used in 'disciplining' the child have even shocked old-salt policemen.
For almost a month, two-year old Nikita, from Russia's Siberia, has been continuously and atrociously beaten by 32- year-old Vladimir, his mother's boyfriend. Vladimir explains he was teaching the boy to become a real man. The last time Nikita was severely "taught" was on Sunday. At night an ambulance was called in – the boy lost consciousness and wasn't regaining consciousness. The first 24 hours Nikita spent in intensive care in a local hospital in a village where the family lives. But then the boy was transferred to the nearest city, Irkutsk, for further treatment.
Nikita is now hanging between life and death, doctors say. He was taken to the intensive care department where he remains in an extreme coma. The boy suffers from soft tissue traumas, internal bleeding, necrosis of brain cells and a disorder of the central nervous system. Nikita cannot breath and is connected to an artificial lung ventilation device. There are traces from cigarette burns on the toddler's body. The doctors have conducted a craniotomy and say the chances for the boy to survive are extremely poor. If he does, Nikita will be handicapped for the rest of his life.
"The documents from the case show that for several days they were torturing and beating the boy. Documents even prove that they were putting out cigarettes on his body", Vladimir Salnikov from the local police department told Russia's Vesti news channel.
Nikita's mother, 22-year-old Olesya, doesn't feel guilty and blames it all on her boyfriend, the former inmate Vladimir. They were pen pals while Vladimir was serving his term and, after being released, he moved in with Olesya. None of the neighbors share their memories of how the family was living. And none of them heard the little boy screaming from inhuman tortures.
Olesya Chemezova and her boyfriend have already confessed to their crimes. While the boy is alive they could face up to 12 years in prison for serious bodily assault. But if the boys doesn't survive, they will be charged with murder.
Parental cruelty has become no surprise. Just a few weeks ago the public was shocked by the story of Gleb Ageyev, who was brought to the hospital with numerous burns and injuries.
You can share this story on social media: