Supreme Court rejects tortured whistleblowers' suit against Rumsfeld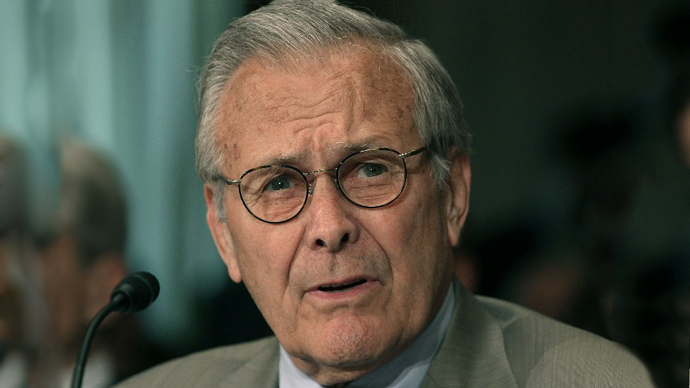 Two United States citizens can't sue the federal government and former Defense Secretary Donald Rumsfeld for being subjected to torture while detained by US force during the Iraq War, the Supreme Court decided Monday.
The high court rejected an appeal early Monday filed by Donald Vance and Nathan Ertel, two US citizens who say Mr. Rumsfeld should be held responsible for the treatment they endured while detained for several weeks in 2006. Both men were placed in a military prison in Baghdad for around three months that summer. They had filed a complaint with the Federal Bureau of Investigation about the Iraqi-owned security contractor they worked for, then were scooped up by US forces and put behind bars days later.
In a 2011 interview with Democracy Now!, Vance explained that only a few months into working for the contractor, Shield Group Security, he "started to notice some pretty frightening and alarming illegal activity."
"It ranged from bribery, theft, weapons dealing," he explained. "It was a gamut of illegal activities."
Vance told the FBI about the allegations in 2005 and became an unpaid informant for them shortly thereafter. Then in April 2006, his cover was blown and he and Ertel were brought to the US embassy in Baghdad — only to be turned over to the US military and checked in to a temporary detention facility.
While detained in Baghdad, Vance and Ertel say they were tortured and their rights of habeas corpus were violated. Specifically, the men say they were subjected to sleep deprivation techniques and other inhumane treatment, and Vance wasn't allowed to make contact with anyone in America until two weeks after his arrest. Vance was kept in custody for more than two months after authorities learned from the FBI that he was an informant.
"Even Saddam Hussein had more legal counsel than I everhad," Vance later told the New York Times "While we were detained, we wrote a letter to the camp commandant stating that the same democratic ideals we are trying to instill in the fledgling democratic country of Iraq, from simple due process to the Magna Carta, we are absolutely, positively refusing to follow ourselves."
In the interview with Democracy Now!, Vance recounted exactly what happened for more than 90 days that summer:
"During my detainment, myself and Nathan Ertel, we endured the authorized enhanced interrogation techniques that the military currently employs. It ranges from sleep deprivation, food manipulation, sensory deprivation, sensory overload, a technique called 'walling.' And all of their questions surrounded on topics like, 'What did you tell the FBI? How long have you been doing this? Why did you do this?' And, of course, I answered all of their questions, but I was not seeing any end to my detention."
Both men hoped to sue Rumsfeld and the federal government for a slew of crimes, including false arrest, unlawful detention, unlawful search and seizure, denial of right to counsel in interrogations and denial of necessary medical care and denial to present witnesses and evidence.
Because Sec. Rumsfeld personally approved of the so-called enhanced interrogation techniques used in the prison, Vance and Ertel filed a suit against him and the US government in late 2006. The case has since gone through a series hoops and other obstacles, ending this week when the Supreme Court shot down an attempt to appeal an early ruling.
Vance and Ertel asked the Supreme Court to reverse in 2012 decisions by the Seventh Circuit Court of Appeals in which they ruled that Rumsfeld could ont be sued for his role in approving the torture techniques. The high court rejected that request, reaffirming the Seventh Circuit Court's decision.
"The earlier ruling was so broad that it applied to all military officials, including the individuals who carried out torture," Stephen C. Webster wrote for Raw Story. "The Supreme Court rejected an appeal of that ruling on Monday without comment, solidifying the lower court's opinion that military officials are immune to civil lawsuits over torture."
You can share this story on social media: