Military contractor to sue Rumsfeld over torture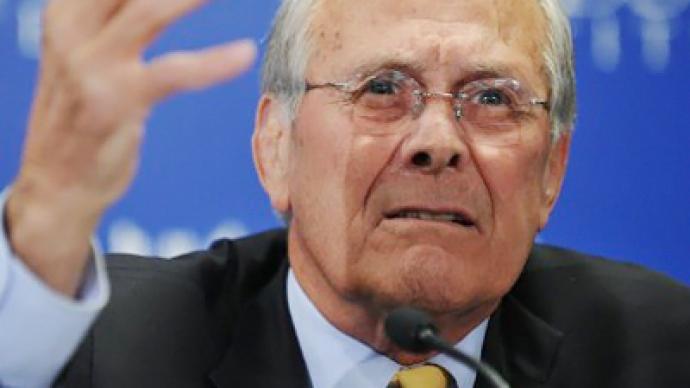 Despite urging from the Obama administration to dismiss the case, a US District judge is allowing a military vet to proceed with a lawsuit against Donald Rumsfeld.
Former Secretary of Defense Rumsfeld is facing a lawsuit from an Army vet who served for the US in Iraq. The veteran, whose name is being withheld, claims that Rumsfeld personally approved interrogations tactics that were used upon him that were torturous in nature. The man alleges that the US government also denied him access to courts, violating his constitutional rights. While Obama officials say a lawsuit against Rumsfeld personally shouldn't come to fruition, District Judge James Gwin rules that Americans in Iraq should be protected by the Constitution, no matter their whereabouts and whether or not the country is at war, and is allowing the suit to continue.Attorneys for the plaintiff say the man was planning on coming home to America from Iraq when the military held him without justification and refused to alert his family. He was held for nine months at Camp Cropper, a US force outside of Baghdad. While detained they claim that he was repeatedly abused before being released without explanation in August of 2006.The US government says the man helped pass classified information to the enemy and aided in Iraqi insurgence. The man says, however, that he refused to discuss with the military conversations he had with Abdul-Sattar Abu Risha, an Iraqi who later led a revolt against al-Qaeda and became an ally of the US, wanting to preserve confidentiality. He was never charged with a crime and was imprisoned unjustly. "The U.S. government wasn't ready for the rest of the world to know about it, so they basically put him on ice," says attorney Mike Kanovitz. "If you've got unchecked power over the citizens, why not use it?"The Obama administration has stood by Rumsfeld since legal filings materialized in 2008. For their part they attested that the former defense secretary could not be sued individually for official conduct and that a US judge could not review wartime decisions, citing that those are the constitutional responsibility of both Congress and the commander in chief. "The stakes in holding detainees at Camp Cropper may have been high, but one purpose of the constitutional limitations on interrogation techniques and conditions of confinement even domestically is to strike a balance between government objectives and individual rights, even when the stakes are high," responded Judge Gwin."The court finds no convincing reason that United States citizens in Iraq should or must lose previously declared substantive due process protections during prolonged detention in a conflict zone abroad," he added.The man says that he was held in an unidentified location for three days before being flown to Cropper. Upon first being detained he was blindfolded, handcuffed and kicked in the back. He says he was threatened with death if he tried to escape and that guards repeatedly choked him. At Cropper, he says he was held in solitary confinement before being moved to cells shared with terrorist suspects that attacked him and left him fearing for his life. The AP adds that the government has filed documents with the District court claiming that the man was indeed suspected of a crime, but did not extrapolate any further.
You can share this story on social media: