Military contractor launches smear campaign against Medal of Honor hero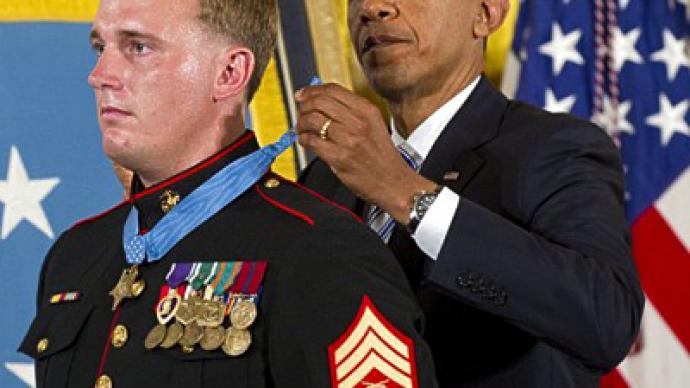 For serving his country in Afghanistan, Dakota Meyer was awarded the Medal of Honor this year. Now only two months later, he is taking a military contractor to court for fabricating claims that he says is making it impossible to get work.
After fighting the Taliban overseas, Meyer left active duty in 2010 only to go work for defense contractor Ausgar Technologies. In March 2011, however, he parted ways with the employer to join the staff of BAE Systems, the British contractor that works largely out of the United States.In a lawsuit recently uncovered, Meyer's attorneys say that shortly after joining the staff of military contractor BAE, the soldier became concerned over the company's contract with the country of Pakistan. BAE, says Meyer, was selling advanced war weaponry to Pakistan, and as a former fighter of the Taliban in nearby Afghanistan, Meyer was concerned over what the artillery could do in the hands of insurgents."We are taking the best gear, the best technology on the market to date and giving it to guys known to stab us in the back," Sgt. Meyer wrote to Bobby McCreight, his supervisor, according to the lawsuit. "These are the same people killing our guys."After this correspondence, Meyer says McCreight berated and belittled him, according to the suit. That mocking came despite the soldiers' service in the US military, which made him the first living Marine to earn the Medal of Honor for actions in the Iraq and Afghanistan wars.Before long, Meyer resigned from BAE over the contract with Pakistan and attempted to return to Ausgar. Meanwhile, however, McCreight contacted a Department of Defense manager and said his former employee "had a problem related to drinking in a social setting" and had mental issues. Due to this correspondence, an Ausgar official contacted Meyer and told him that McCreight's memo had led the Pentagon to block the re-hiring.According to court filings, BAE Systems have caused competitive companies to disregard Meyer's applications for employment, allegedly falsifying claims that the soldier has a drinking problem and is mentally unstable."As an organization whose core focus is to support and protect our nation's troops, we are incredibly grateful to Dakota Meyer for his valiant service and bravery above and beyond the call of duty," BAE spokesman Brian Roehrkasse responds in to the lawsuit in an official statement. The company adds that BAE "strongly disagrees" with the complaint. Meyer had filed the complaint back in May, but only this week did it become uneartherd by reporters at the Wall Street Journal.
You can share this story on social media: