God in the field: Third of Americans believe divine power decides Super Bowl results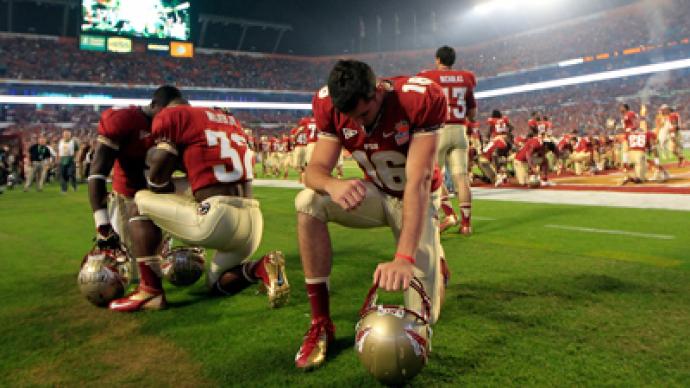 About 3 in 10 Americans believe that God has a role in deciding the results of sporting events, including this Sunday's Super Bowl. More than half said that pious athletes are rewarded for their faith with good health and success.
­A study by the Public Religion Research Institute has cast light on how people in the US see God in the sporting field, just before the Ravens and 49ers clash in New Orleans for American football's national championship title.
The majority of Americans, 53 percent, believe that God rewards athletes who have faith with good health and success; 42 percent who disagree. A considerable minority of 27 percent said that the Lord takes an even more direct role in sporting events, and has a hand in determining their outcomes.
The latter belief is more prevalent among ethnic minority Christians (40 percent) and white evangelical Protestants (38 percent). But political affiliation seemed to have little effect attitudes – Republicans, Democrats and independents alike agreed that they saw the hand of God in touchdowns.
As many as 72 percent of ethnic minority Christians in America agree that believing athletes are rewarded with health and success, according to the survey. That view is shared by two-thirds (67 percent) of white evangelical Protestants and a majority (56 percent) of Catholics. More than one-third (34 percent) of religiously unaffiliated Americans also agree that God rewards religious athletes.
Half of Americans support public expression of faith during sport competitions, compared to only 4 percent who disapprove. More than three-quarters (76 percent) of respondents said that public high schools should be allowed to sponsor prayer before football games, with few differences due to race, region, gender or age.
You can share this story on social media: