Los Angeles cardinal stripped of duties over sex abuse accusations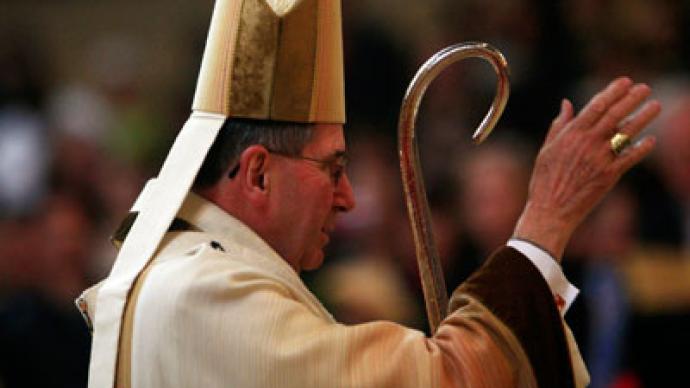 Los Angeles Archbishop Jose Gomez has relieved his predecessor, Cardinal Roger M. Mahony, from any and all public duties as a result of his mishandling of the decades-long clergy sex abuse that victimized 10,000 children since the early 1950s.
Mahony served as the LA Archbishop from 1985-2011, after which he reached the mandatory retirement age of 75. In response to a court order, Gomez on Thursday released files documenting the abuses that happened decades ago, naming 14 of the Catholic priests who sexually abused children – mostly boys – for decades. Around 200 priests were tied to allegations of sexual abuse in the state of California in 2007, resulting in a $660 million settlement to 500 victims who claimed they were abused.
"I find these files to be brutal and painful reading," Gomez said in a statement, describing the 12,000 pages of documents that were unsealed as part of the case. "The behavior described in these files is terribly sad and evil."
But beyond describing the actions of the abusive priests, the files also indicate that Mahony made attempts to cover up the sexual abuse that he knew was happening, mainly during the 1980s.
As a result of Mahony's cover-up attempts, he is now barred from speaking publicly or exercising any responsibilities normally reserved for a bishop – including administering confirmations.
"My predecessor, retired Cardinal Roger Mahony, has expressed his sorrow for his failure to fully protect young people entrusted to his care," Gomez wrote in a statement announcing his decision. "Effective immediately, I have informed Cardinal Mahony that he will no longer have any administrative or public duties."
This unprecedented action is an unusual punishment that demonstrates the severity of Mahony's past actions.
"To tell a cardinal he can't do confirmations, can't do things in public, that's extraordinary," Jesuit scholar the Reverend Thomas Reese told the LA Times.
But Gomez is also coming under scrutiny for making the decision too late. The Archbishop had access to the files for years and did not relieve his predecessor of his duties until after the court forced him to publicize the findings this week.
"There's nothing that Archbishop Gomez knew today that he did not know when he took office or two weeks ago," lawyer Anthony DeMarco told the New York Times. "They are doing this to try to control their image, but none of this would have happened without the courage of the victims coming forward and the immense public pressure."