'I give God 10%, why do you get 18?' - pastor's message to waitress goes viral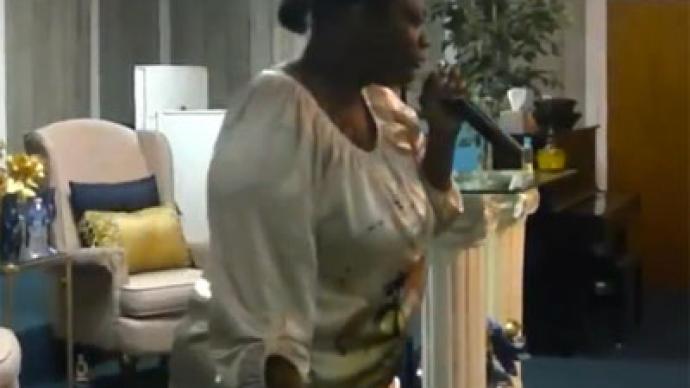 The American chain restaurant Applebee's has fired a waitress who posted a note on the Internet from a pastor that refused to tip her, which said "I give God 10%, why do you get 18?"
The waitress posted the receipt on the social news and entertainment website Reddit, where it quickly went viral in the atheist section of the site.
"My mistake sir, I'm sure Jesus will pay for my rent and groceries," the waitress, Chelsea Welch, wrote in the headline of her post. The Applebee's receipt indicated that an 18 percent gratuity had been added to the check, since the dinner party included eight or more people.
But the angry customer scratched out the $6.29 top and wrote "0" instead, arguing that she should not tip the waitress more than she pays God.
"I originally posted the note as a lighthearted joke," Welch told The Consumerist. "I thought the note was insulting, but it was also comical. I posted it to Reddit because I thought other users would find it entertaining."
Photo from thesmokinggun.com
Welch said she did her best to conceal any identifying information and even gave an inaccurate description of the pastor. The picture she posted did not include the pastor's name or the restaurant's information and the signature at the bottom of the receipt did not appear to be legible. But due to the popularity of the post on Reddit, which acquired more than 4,000 comments in just three days, Internet users quickly worked to determine the identity of the pastor.
By the time Welch posted a version of the receipt that did not contain a signature, it was too late to stop the flurry of attempts.
"I had already started receiving messages containing Facebook profile links and blogs and websites, asking me to confirm the identity of the customer," she said. "I refused to confirm any of them, and all of them were incorrect. I worked with the website moderators to remove any personal information. I wanted to protect the identity of both my fellow server and the customer. I had no intention of starting a witch hunt or hurting anyone – I just wanted to share a picture I found interesting."
But once the pastor, 37-year-old Alois Bell, caught wind of the viral receipt, she called Applebee's and demanded that everyone – including the waitress and the managers – be fired. Shortly thereafter, Welch lost her job – despite allegedly being one of their most beloved waitresses.
"When I posted this, I didn't represent Applebee's in a bad light. In fact, I didn't represent them at all. I did my best to protect the identity of all parties involved. I didn't break any specific guidelines in the company handbook – I checked," Welch said. "But because this person got embarrassed that their selfishness was made public, Applebee's has made it clear that they would rather lose a dedicated employee than lose an angry customer. That's a policy I can't understand."
When questioned by the New York Daily News, Applebee's spokesman Dan Smith confirmed that an employee had been terminated, but declined to specify which one.
The Smoking Gun also tracked down the pastor, who said her note was a "lapse in my character and judgment" and that it "has been blown out of proportion."
"My heart is really broken," she said. "I've brought embarrassment to my church and ministry."