Barefoot Internet sensation is barefoot again
Published time: 3 Dec, 2012 20:59
Edited time: 4 Dec, 2012 00:59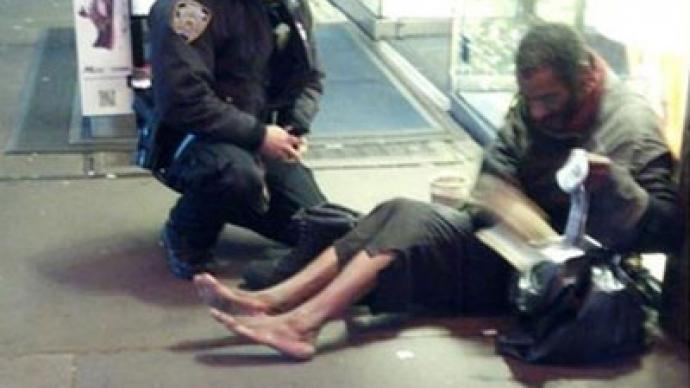 The New York City homeless man who received a pair of boots as a gift from a police officer is barefoot again, claiming that the shoes are too valuable to wear around the streets.
Jeffrey Hillman, 54, was spotted panhandling on the Upper West Side on Sunday without his new boots, which are worth $100. New York Police Department (NYPD) Officer Lawrence DePrimo bought the shoes for him on a cold November night when he saw the barefoot man in Times Square last week.
Hillman gratefully accepted the shoes and the act of kindness became a viral Internet sensation after a passerby snapped a photo of the two men. But Hillman, who is originally from Middlesex County, NJ, is wandering the streets without shoes again. His blistered feet are once against barefoot as the winter months approach the city.
The homeless man told the New York Times that he hid the Skechers all-weather boots so that no one would try to rob him of the shoes.
"Those shoes are hidden. They are worth a lot of money. I could lose my life," he told the Times.
Along with fear for his most valuable item, Hillman told the newspaper that he was disturbed that he did not benefit from having his photo go 'viral' – especially since no one asked him if they could post a picture of him on the Internet.
"I was put on YouTube, I was put on everything without permission. What do I get? This went around the world, and I want a piece of the pie," he said.
"I appreciate what the officer did, don't get me wrong. I wish there were more people like him in the world," he added. The homeless man also expressed his thanks to the officer and everyone who expressed their sympathy for him.
In an interview with the Times, he recalled moments of his past, from the time he joined the Army in 1978 to the birth of his two children, 22-year-old Nikita and 24-year-old Jeffrey. Hillman once worked as a "food service specialist" for the military, serving in both the US and Germany. But after five years of service, he was dishonorably discharged and ended up working in New Jersey kitchens. He does not recall how he ended up homeless.
Until the media shed light on the homeless man's situation, Hillman's family had not heard anything from or about him since January.
"We love our brother very much," Hillman's brother, Kirk, told the New York Daily News. "Our door is always open to him, but this is a lifestyle he's chosen."