Strauss-Kahn had sex with three
Published time: 18 Jul, 2011 18:19
Edited time: 18 Jul, 2011 23:34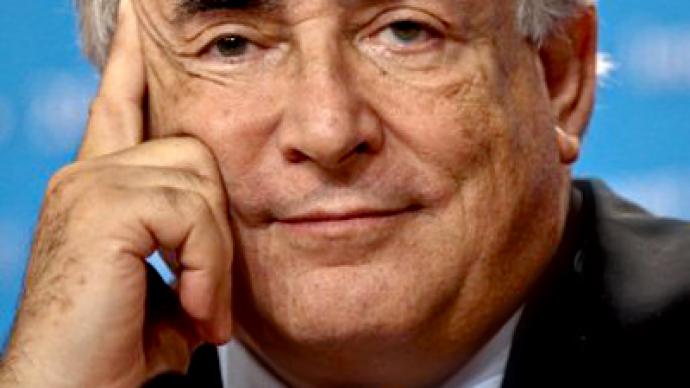 Being released without bail earlier this month wasn't the only thing that had former IMF Head Dominique Strauss-Kahn smiling.
New reports allege that the sexual encounter between DSK and a New York City hotel maid was just one of three x-rated escapades the banking big-wig partook in that weekend.
A friend of Straus-Kahn's wife told French magazine Le Point that DSK had sex with a slew of three different women on the weekend that led to assault charges, his resignation and a worldwide scandal.
"So, it wasn't just one for the road before the presidential campaign," a friend of wife Anne Sinclair told Le Point. "It was three."
An unnamed Guinean immigrant working out of a posh NYC hotel alleged that Strauss-Kahn forced her into oral sex back in May. The aftermath led to the International Monetary Fund chair calling it quits and looking at serious jail time. Prosecutors recently revealed evidence against the hotel maid that discredited her accounts and DSK was released without bail almost immediately after. His legal team now expects Strauss-Kahn, who is due back in court tomorrow, to be exonerated from all charges.
DSK celebrated his sixty-third birthday with his wife Anne Sinclair over the weekend, and British paper The Sunday Times says Mrs. Strauss-Kahn has stood up for her husband throughout this whole ordeal.
"Dominique has never been violent with anyone," The Sunday Times says Sinclair told friends. "Even the children, he never smacked them. "
"He's a seducer, not a rapist."
Strauss-Kahn was under house arrest in a New York apartment after he was formally indicted back in mid-May for allegedly forcing the hotel worker into a sex act. By the end of June, however, the New York Times reported that the new evidence against the woman, linking her to previous false claims of rape and a relationship with a jailed drug dealer, had brought the case to the "verge of collapse."