Reddit co-founder sought work with shadowy intelligence firm, WikiLeaks reveals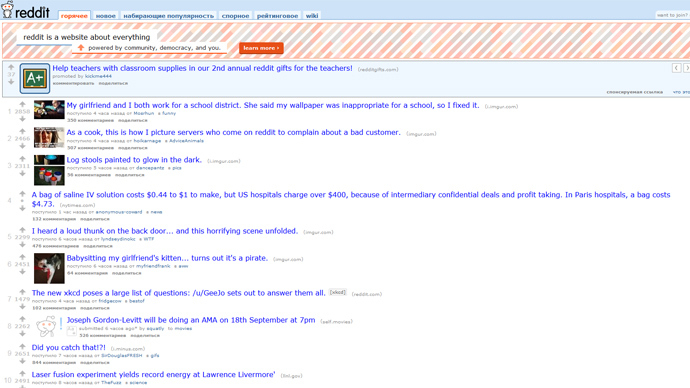 A popular co-founder of the social news site Reddit previously attempted to gain employment as a consultant for Stratfor, a shadowy private geopolitical intelligence firm, despite his reputation as an open internet activist.
With help from Anonymous hackers, the anti-secrecy group WikiLeaks has published more than five million emails from Stratfor since 2011 as part of its "Global Intelligence Files" campaign. The internal messages have revealed that the company not only purports to disclose classified "global intelligence" to the highest bidder, but also sells information that is poorly sourced. Stratfor clients include Lockheed Martin, Dow Chemical, the US Department of Homeland Security, Department of Defense, the Marines, Raytheon defense contracting, and a slew of others. 
Along with criticisms that the Texas-based intelligence company is adding to the military industrial complex (with little contribution, to boot), other intelligence executives have asserted that Stratfor is guilty of fraud, breach of contract, and a variety of other potentially illegal activities, including nefarious relationships between Stratfor employees and government officials. 
WikiLeaks founder Julian Assange wrote on his website that Stratfor is made up of a "global network of informants who are paid via Swiss bank accounts and pre-paid credit cards – which includes government employees, embassy staff and journalists around the world." 
The newest iteration of the "Global Intelligence Files," which is being disclosed intermittently, reveals that Alexis Ohanian expressed interest in a position with Stratfor back in 2011. Ohanian is best known as a Reddit co-founder but has gone onto to invest in more than 50 internet start-ups en route to becoming one of The Daily Dot's most influential activists of 2012 and Forbes magazine's so-called "Mayor of the Internet," in part because of his anti-secrecy message. 
The discussion, while never leading to any kind of employment, began when Ohanian met Stratfor Chairman George Friedman at Bloomberg TV. A series of emails followed, in which Stratfor communications vice president Meredith Friendman wrote that Ohanian is "a huge Stratfor fan" and the two parties "met and talked about doing something with Reddit for social media." 
Soon after, Ohanian emailed a proposal that, had the intelligence executives accepted, would have paid Ohanian $25,000 for "the following discovery phase:" 
- Audit of the Economist in social media & online


- This includes twitter, facebook, youtube, blogs, forums, social news, podcasts, etc.
- Audit of Stratfor in social media & online
- Audit of another competitor (if you so desire) in social media & online
- Three potential campaigns for going forward based on our analysis
- Five recommendations concerning your existing profiles (e.g., top 5 ways to improve how you're using twitter right now)

Moving forward, assuming you love our expertise as much as we think you will, we'd be open to discussing consulting services on retainer.
Ohanian then emailed: "If you'd like to call me up for a Skype consulting session I run $1,000/hour." 
The revelations were quickly noticed by the Reddit community, where forum-members are famous for advocating transparency and authenticity above all. Some openly wondered whether Ohanian had somehow manipulated the site to benefit Stratfor. Multiple links posted on Reddit that redirected users to WikiLeaks' page were mysteriously deleted throught the day Monday. 
"Reddit is just like any other mega-popular website. It sold out, and then it became a lackey for the government," posted user BankerShanker. "Now you can be sure that every comment you make is being stored in a machine somewhere, ready to be dug up and used against you; without context, and with prejudice. They made a back-door deal with the devil, and many Redditors are unaware of this fact." 
Ohanian has posted much of the relevant material on his Twitter feed and took to Reddit to explain the situation to angry users. 
"Let me say this unequivocally: I have never consulted for Stratfor," he wrote. "I have never worked for Stratfor -- they invited me to their office during South by Southwest, I got a tour and they asked me for a quote to consult, so I gave it to them, but it went nowhere. We hadn't talked since."
You can share this story on social media: