Gigantic line of storms threatens 20 percent of Americans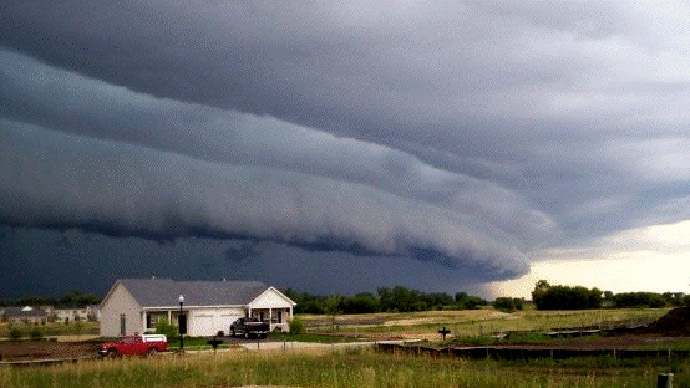 A series of severe storms are forecast to rip through the US on Wednesday, bringing tornadoes, lightning, hail and power outages to 20 percent of all Americans.
Meteorologists are warning that a massive derecho could bring devastating weather conditions to 64 million people across 10 states. Cities including Chicago, Indianapolis, Cincinnati, and Columbus are expected to experience severe conditions 45 times higher than a normal day in June.
The line of storms will span at least 240 miles, with winds of at least 58 mph. The derecho is a rare weather phenomenon that usually only occurs in the Midwest once a year. Meteorologists say that predicting such a storm system is difficult, but that it is highly likely to occur Wednesday.
"It's like predicting a large tornado is going to happen," said MSNBC Meteorologist Bill Karins. "No one can do that. The only thing we can do is say conditions are favorable for one to happen."
Nick Wiltgen, a meteorologist for The Weather Channel, said conditions are favorable for a derecho, and "maybe more than one", in the US this week.
But if weather conditions are as severe as meteorologists forecast, millions of Americans could experience large hail, dangerous lightning, and destructive winds. Trees may be uprooted, branches may litter the roads, utility poles and wires could be brought down, and power outages could occur across the country.
Bill Bunting, operations chief at the National Weather Service's Oklahoma-based Storm Prediction Center, told AP that although he does not want Americans to panic, it is important for the to be aware of the risks.
"It's a pretty high threat," he said. "We don't want to scare people, but we want them to be aware."
Jeff Masters, meteorology director at Weather Underground, told AP that Wednesday's predicted derecho "might be the worst severe weather outbreak for this part of the country for the year."
Although the worst of the storm is expected to occur in Midwest, cities including Detroit, Baltimore, Washington, Milwaukee, Pittsburgh and Louisville have a risk level of weather 15 times more severe than normal.
And even if a derecho does not form on Wednesday, the region will still experience powerful thunderstorms and destructive weather conditions that could bring down trees.
In 2012, a derecho caused $1 billion in damages across 11 states spanning from Chicago to Washington, D.C. The weather system came with wind gusts as high as 100 mph, Thirteen people were killed, 4 million were left without power, and 34 people died from the heat wave that followed the storm system, AP reports.
In the US, derechos are most likely to occur between May and July. Wednesday's storms will move quickly, and leave behind days of oppressive heat.
"By the time you see the dark sky and distant thunder you may have only minutes to get to safe shelter," Bunting warned.