Dozen tornadoes hit already damaged Mid-west, killing one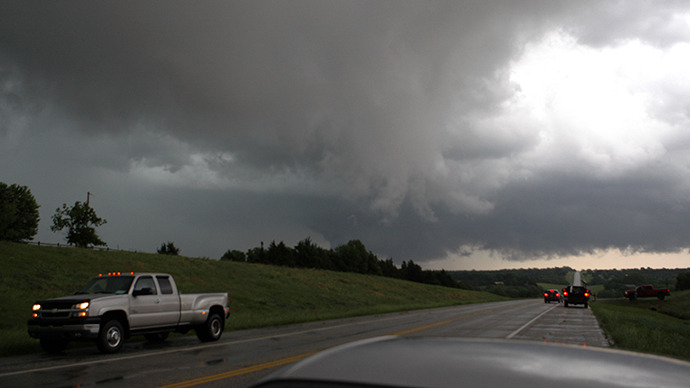 More than a dozen tornadoes made their way through Oklahoma and Arkansas on Thursday, killing at least one man and bringing further damage to a region already devastated by a series of twisters.
At least two people went missing after the latest storm system brought further destruction to the Mid-west, days after an EF5 storm killed 24 people in Moore, Oklahoma, on May 20.
One man died on Thursday after strong winds knocked a tree onto his car in Arkansas, 30 miles southwest of Little Rock. State police told AP that there were "confirmed fatalities" in western Arkansas, possibly indicating that others had lost their lives. At least nine other people were injured as the tornadoes ripped through the region, damaging buildings, uprooting trees and shattering windows. Two of the injuries were attributed to a lightning strike.
Downed power lines were scattered across Oklahoma and Arkansas, storms brought rain and hail, and flooding remains a concern in the neighboring states of Missouri, Iowa, and Illinois.
One of the twisters ravaged a suburb of Tulsa, Oklahoma, tearing apart roofs and causing some damage to buildings.  The tornadoes brought further destruction to the Mid-west, but none of them were as deadly or as destructive as the twister that touched down with 200 mph winds in Moore last week, injuring hundreds and leveling two elementary schools.

But meteorologists report that more dangerous weather is on its way, and that baseball-sized hail and tornadoes will continue to ravage the region throughout Friday.
"The atmosphere will become extremely unstable this afternoon, especially in Oklahoma, while winds in the atmosphere will be favorable for organized severe storms, including a few supercell thunderstorms," the National Weather Service announced in an advisory.
Supercell thunderstorms, also known as rotating thunderstorms, are responsible for generating the deadliest tornadoes, as well as large hail and strong winds.  Oklahoma City, Tulsa, Joplin, and Springfield, Missouri, are all in the predicted path of Friday's storm system. In 2011, Joplin was struck by the second-deadliest tornado in recorded US history. In the US, supercell storms are usually formed when cold, dry air from Canada meets warm, moist air from the Gulf of Mexico and hot, dry air from the deserts in the West.
Tornadoes are no rare sight in the Mid-west; the US averages more than 1,200 tornadoes a year, with Oklahoma and Alabama experiencing the strongest of the storms. Since 1950, those two states have been struck by seven EF5 tornadoes each. And more than half of all tornadoes have occurred in Alabama, Iowa, Kansas, Oklahoma and Texas, AP reports.
As the Mid-west continues to clean up the damage left behind by the May 20 twister, residents are continuing to take shelter to avoid the latest storm system that is once again ravaging the region.