After killing two in US South deadly storms move to the Northeast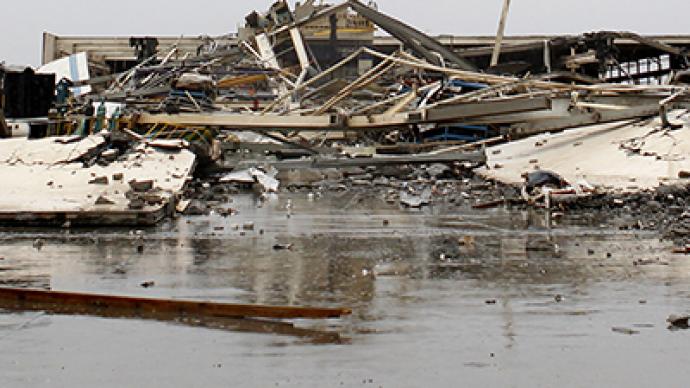 Storms and tornadoes ravaged the Southeast US on Wednesday, killing two and leaving behind them a trail of demolition before heading towards the Northeast, where hundreds of thousands were left without power.
The massive storm system generated tornadoes in the Southeast and high winds in the North, flipping cars, demolishing homes and businesses, and causing flooding all along the coast.Parts of Georgia declared a state of emergency as tornadoes left behind a mix of debris and tattered houses. Winds were so powerful that they even managed to flip tractor trailers."The sky was swirling," business owner Theresa Chitwood told CBS. "It sounded like a freight train coming through."
Adairsville, Ga. resident Kandi Cash described searching the rubble of her grandmothers home, where she salvaged whatever photos and keepsakes she could find after tornadoes demolished the property."I'm just picking up pictures," she told AP. "I've found the most important ones, like when my cousin was born and her late daddy, the ones that matter most."
While Cash waited out the storm in a friend's basement, other Adairsville residents described dodging objects when the tornado unexpectedly hit.George resident Anthony Raines, 51, was crushed to death in his mobile home by a fallen tree, while a fallen tree also killed another man in Tennessee who was taking shelter in his storage shed. Nine other people were hospitalized for storm-related injuries.
As the storm system moved up to the Northeast, it produced high winds and flooding and caused power outages affecting 74,000 users in Connecticut, 25,000 in Rhode Island and 24,000 in upstate New York. Northeast residents experienced wind gusts as high as 63 mph.In the suburbs of Washington, DC, flash floods prompted emergency personnel to conduct a number of water rescues – especially the suburb of Montgomery County, Md.
The storms stretched from New Orleans to Buffalo – a distance of more than 1,000 miles. The storms left behind freezing cold temperatures and brutal wind chills, initially causing the Southeast to be colder than the Northeast, which was experiencing record high temperatures for this time of year.But while thousands were left without power in the north, the Georgian town of Adairsville suffered the most damage.
"I'm just really glad my kids weren't home and they were at school," Adairsville resident Juanita Carter told CBS. As a tornado passed over Carter's home, she dove into the bathtub to take cover while the structure of her cinder block house collapsed around her.Rescuers are currently searching damaged homes and businesses for any additional victims and are marking the front doors with a large "X" to indicate that they have been searched.
You can share this story on social media: