FEMA sold off emergency shelters as the East Coast braced for Sandy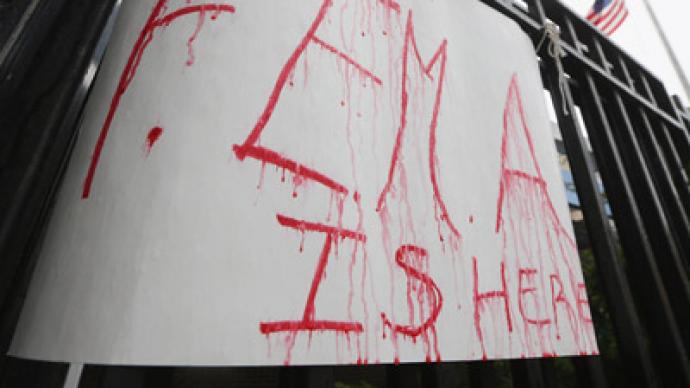 The Federal Emergency Management Agency was praised by President Obama for its handling of Superstorm Sandy, but not all East Coast residents ravaged by Mother Nature last month would agree.
Those unhappy with the handling of the Sandy aftermath may have just found another reason to be upset with FEMA. In the months and weeks leading up to the colossal frankenstorm that caused tens of billions of dollars in damage along the Atlantic Coast, the federally-managed FEMA agency practically threw away emergency shelters as millions were in grave danger of a storm eventually caused over 100 confirmed deaths. As recently October 22 — the very day that the National Weather Service upgraded the tropical depression to a near-hurricane named Sandy — FEMA was selling disaster trailers to be used in the event of a major emergency.According to a report by the Washington Examiner this week, FEMA sold 886 of those prefabricated trailers since 2009, with around a quarter of those sales happening just this year. The Examiner investigation found that 46 of those bunkers were bought by residents of New York State, where Sandy stripped down power lines and made a disaster area out of the Big Apple.FEMA may have been offering assistance in the days before Sandy, but at a price. Those trailers, the General Services Administration notes, were purchased by the government for around $25,000 a piece, only to be auctioned off at as low as one-fifth of that."I don't know what was the driving force behind auctioning off or selling these units at a significantly reduced rate.But I can tell you temporary housing is going to be a critical issue in New Jersey and New York as they try to recover," Mississippi Emergency Management Agency Executive Director Robert Latham tells the Examiner."To be honest, I didn't expect they would be selling them," Schoharie County, NY Sheriff Tony Desmond adds to the outlet. "If they were serviceable, they might be taken to the next site of a disaster where they would need housing," Desmond said. "But they were selling them."In the immediate aftermath of Sandy, New Jersey Governor Chris Christie and New York Mayor Michael Bloomberg hailed US President Barack Obama for a job well done in getting aid to the region with the help of FEMA. On his part, the president called the response "aggressive and strong and fast and robust."The millions of residents that have been without power, some for as long as two weeks after the storm struck, have critiqued that praise, though. As recently as this week, more than 50,000 customers of the New York State-owned Long Island Power Authority were without electricity, and the company's chief operating officer said some clients could be left out in the dark — literally — for quite a while until LIPA could get everything up and running, a process complicated by the feds' lack of assistance in clearing downed trees and providing assistance for citizens trapped from Sandy.When FEMA first dispatched workers to the New York region to provide aid, emergency centers set up for the sole purpose of hazard recovery closed its doors to victims citing bad weather as a reason for not being able to stay open."Really? You're telling Staten Island people that sorry, we're closed due to the weather?" Staten Island resident MaryAnne Alessio told Neil Cavuto. "These are people walking the streets that don't have no homes, no electricity, no life, no place to go. They're put out of their houses. And then they go to the FEMA center and they're closed due to the weather. I think it's a disgrace." In a follow-up story RT published earlier this week, activists with the Occupy Wall Street offshoot "Occupy Sandy" were photographed providing food and drink to FEMA workers, providing care for the supposed care-givers.
You can share this story on social media: